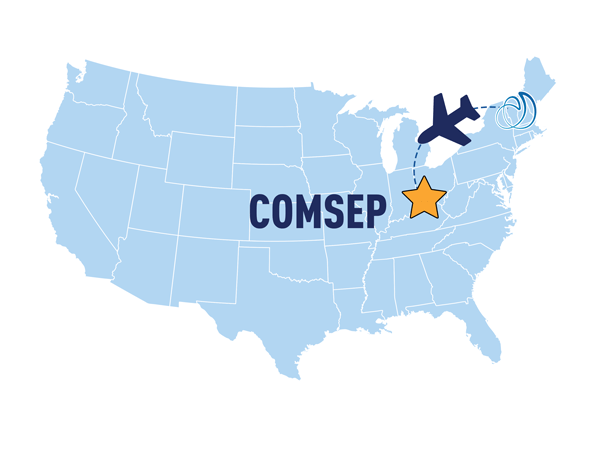 Aquifer will be attending the COMSEP Annual Meeting from March 10-13, 2020 at the Hilton Netherland Plaza in Cincinnati, Ohio to share updates on our developing projects and help faculty and staff make the most of their subscriptions.
If you are attending the meeting, we hope to see you at:
Workshop: Basic Science Saves the Day
Wednesday, March 11 from 10:00am – 11:30am
4249: Basic Science Saves the Day: Using Integrated Teaching Tools to Support Safe Clinical Decision Making and Ensure Better Patient Care
Basic Science Saves the Day: Using Integrated Teaching Tools to Support Safe Clinical Decision Making and Ensure Better Patient Care
Presenters: Robin English, MD; Michael Dell, MD; Leslie Fall, MD; Kathryn Miller, MD; Amy Wilson-Delfosse, PhD
Despite the inclusion of clinical cases in pre-clerkship courses, students often learn basic science in these courses without understanding how underlying causal mechanisms relate to  disease manifestations. The paucity of basic science teaching in the clerkships adds to the difficulty that students face when making clinical decisions and using basic science to justify those decisions.  Utilizing teaching modalities that integrate basic science with clinical features can help students apply basic science principles to the decisions that they make for their patients. Several studies have demonstrated that when students learn about disease processes and clinical features along with the underlying causal mechanisms, they retain basic science knowledge and improve diagnostic accuracy better than those who learn about disease manifestations in isolation.  
Our workshop will prompt educators to identify common conditions for which learners frequently make mistakes in their decision making.  Participants will collaboratively develop a teaching case that focuses on one of those common conditions, using specific types of clinical decision and basic science justification questions.  Our methodology also includes direct consideration of the harm that can come to a patient if underlying basic science mechanisms are not well understood and incorporated into decision making.
Learning Objectives:
Describe how incorporating basic science causal mechanisms into clinical teaching improves students' knowledge retention and diagnostic accuracy.

Develop an integrated teaching case on a common condition, utilizing a questioning methodology that requires a clinical decision with a basic science justification.

Describe the harm that can come to a patient if a student does not understand the underlying causal mechanisms of a clinical condition.
Programs & Partners Session
Wednesday, March 11 from 1:00pm – 2:00pm
Connect directly with your COMSEP colleague members of the Aquifer Pediatrics Course Board.  Bring your questions, ask for integration and teaching advice, and get the latest updates on:
Individual Training or Q&A
Cate Hancock, Aquifer Relationship Manager, will be available throughout the conference for one-on-one meetings to update you on our developing sciences and assessment projects, answer any questions, or provide a tailored training session for you and/or your colleagues. Please email Cate if you would like to arrange a time to meet.
We look forward to seeing you in Cincinnati!