June 2, 2020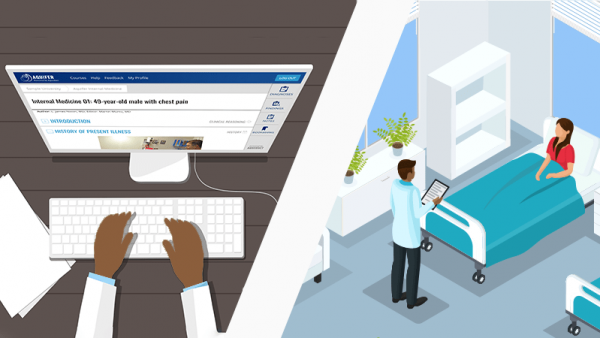 Suzanne Weiner, MD |  Assistant Professor of Medicine & M4 Clerkship Director | Florida Atlantic University Charles E. Schmidt College of Medicine
---
Like everyone else, our school needed to develop alternatives to the traditional in-person apprenticeship-model curriculum for our new fourth-year students due to the COVID-19 pandemic. Florida Atlantic University begins its fourth year in May, one month earlier than most schools.  Fourth-year has its own unique needs: students are concerned with taking Step 2, doing rotations applicable to the specialties they will be applying in, and obtaining letters of recommendation. 
With an uncertain return date for students at a range of clinical sites, we decided to build virtual, asynchronous electives that would help prepare students for their clinical rotations, and especially their Acting Internships. We leveraged a range of case-based online modules to cover different disciplines, including Aquifer and WISE.
Building Tailored Electives
I decided to tailor the course offerings to match the residencies our students will be applying in, which helped build interest and buy-in from students. For example, the neurology/psychiatry module was created specifically for students interested in either of these fields. 
Before choosing cases, I checked in with the other faculty using Aquifer to see how they were used and made sure we did not overlap cases, since our school uses cases across the medical school curriculum, and heavily during the third-year clerkships.
Then I dove into Aquifer's searchable case library (now known as the Content Library) to find cases to fit my needs. I reviewed the content carefully to be sure the cases I selected were appropriate for the M4 level and not too basic. Although Aquifer does not have a full course on Neurology/Psychiatry or Ob/Gyn, I quickly found cases that covered these topics in the searchable case library (now known as the Content Library), which was helpful to build an experience to fit the needs of students entering those specialties. I found relevant content across a range of Aquifer courses, from both the core disciplines and the Aquifer's free interdisciplinary courses: 
Internal Medicine:

Includes cases from Diagnostic Excellence, High Value Care, Geriatrics (although most had been used in the 3rd year already), and of course, Internal Medicine. 

Neurology/Psychiatry:

A cross-disciplinary course, including Family Medicine, Geriatrics, High Value Care, Internal Medicine, Pediatrics, and Radiology.

Ob/Gyn:

Includes cases from Diagnostic Excellence, High Value Care, Family Medicine, Internal Medicine, Pediatrics, and Radiology.

Pediatrics:

Includes cases from Culture in Health Care, Diagnostic Excellence,  High Value Care, Medical Home, Radiology, and, of course, Pediatrics. 

Surgery:

We used the WISE-MD cases (again eliminating the few basic ones used during the M3 surgical clerkship) as well as some Aquifer cases from Diagnostic Excellence, Family Medicine, Geriatrics, and Radiology. 
Assignment & Administration
With my cases selected, I built a custom course for each specialty. This was a very useful feature, which allowed me to group my selected cases, easy assignment of students, and reporting that shows only the cases and students I need to see. 
We opted for a self-study approach for the first block, allowing students to complete the curriculum at their own pace during the two-week elective "rotation". The exact number of cases required in each elective varied between 16-25 cases per course.
No orientation was necessary for the students, as they had used this platform before in our curriculum. As the faculty responsible for these courses, I did need to become familiar with the intricacies of Aquifer's platform. During our first block, I learned I could easily track the students' case completions and view summary statements through Aquifer's reporting (instead of asking students to submit screenshots), which will allow me to simplify the submission requirements moving forward. 
Student Feedback
We have just completed our first two-week block with 8 student evaluations of the courses. The modules were very well received, with a rating 4.5 (on a 1-5 Likert scale) on if they would recommend this rotation to other students. Some comments from the students were:
Internal Medicine: " The Aquifer cases selected reflected a great breadth of medical concepts and I believe I learned a great deal of information from these online cases."  

OB/Gyn: "This was a very helpful and educational e-rotation. The cases selected for the course included many clinical scenarios that are high yield for practice, and the process of the work-up and treatment of these scenarios were extremely educational. "

Pediatrics: "The strengths of the Pediatric Aquifer cases include increasing medical knowledge, practicing presentation skills, and learning the most relevant diagnostic tests to order for a given patient. A weak area of the rotation is when it is unclear what responses are wanted in the free-response questions. Sometimes the provided answers are different than my initial thought process."

Surgery: "Overall, the WISE-MD modules were very good. There was a wide range of topics to choose from and I would recommend this elective to other students about to start surgery clerkships."
The Aquifer content has proven useful for students to prepare for their upcoming clinical rotations, where hopefully they will be able to "shine" due to this extra learning time.
Preparing for Clinic