August 31, 2021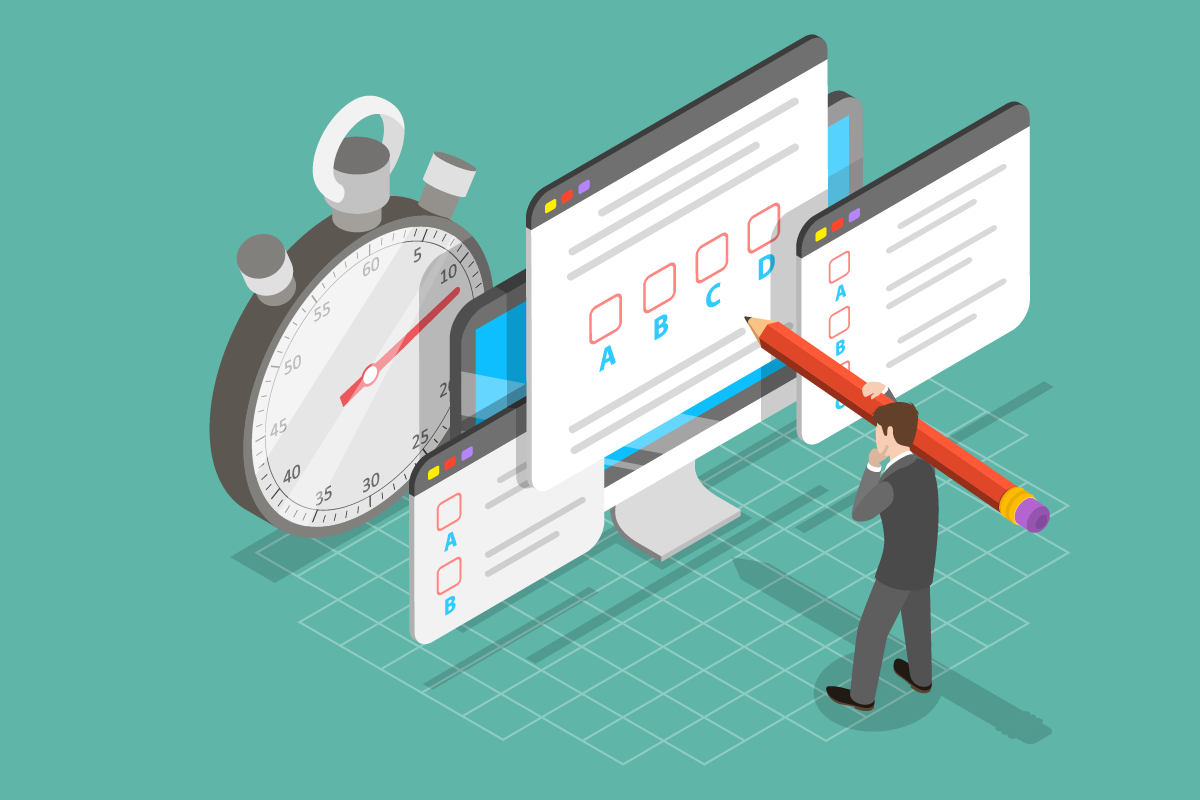 Aquifer offers a variety of assessment options to accompany our cases, ranging from validated exams to customizable learning activities. Programs around the country are using Aquifer's assessment tools to evaluate student progress, provide granular feedback, and identify at-risk students.
100-Question Multiple-Choice Exams
Aquifer offers validated, multiple-choice summative exams designed to evaluate students' clinical knowledge in each discipline. The exams align with the Aquifer cases, which are specifically designed to cover the national clerkship curriculum for each discipline (STFM, COMSEP, AUR/AMSER). These 100-question exams are extensively reviewed and vetted by teams of expert educators and are updated every year. Score reports for students are broken down on a case-by-case basis so that students can identify which cases and topics they are struggling with or excelling at. Exams are free to subscribers of Aquifer Family Medicine, Pediatrics, and Radiology courses.
For Summative Assessment
Aquifer's multiple-choice exams are often used as end of clerkship summative exams, as an alternative to the NBME. "One of the things I like most about using the Family Medicine exam is that I know that the content for every question within the final exam comes directly from the Aquifer cases. There's no mystery as to how the students should prepare," Dr. David Anthony of the Warren Alpert Medical School of Brown University notes. "The clear link between the content and the exam makes the cases extremely relevant to our students. Even though I don't require students to complete the Aquifer cases, we see a high rate of completion and engagement because of our assessment strategy."
For Formative Assessment
Programs from around the country also use Aquifer's multiple-choice exams as formative assessments. Uniformed Services University uses Aquifer's Family Medicine exam as a pretest during the first week of their clerkship. Using this approach–as published in Family Medicine–students are given the results at the end of the first week to see where they stand. Students use this information to build a tailored study plan to address the areas most in need of study. The overall failure rate for the intervention group using this approach was reduced by 9% (from 17.5% to 8.1%).
Note: The Aquifer Family Medicine Exam is formerly known as the fmCASES National Exam.
Aquifer Internal Medicine Clinical Decision-Making Exam
Aquifer's Clinical Decision-Making Exam (CDME) is a unique and effective tool for assessing the clinical decision-making skills of your students. The internal medicine exam includes a strategic sampling of key conditions and decisions from the CDIM national curriculum and is available to Aquifer Internal Medicine subscribers at no additional cost. 
The exam presents patients with undifferentiated symptoms and walks through different stages of patient care, distilling the information down into the key clinical decisions on diagnosis, testing, and management, providing detailed data that is often not attainable during in-person clinical instruction. This unique exam is not a single "best" answer;  students can choose multiple answers on each question, making the experience more realistic and helping to better assess their clinical reasoning skills. Some questions also include a "poison" response option, in which a student is penalized for selecting an option that would harm the patient.
For Summative or Formative Assessment
In their presentation at AAIM, several medical educators from across the country discussed how they integrated the exam into an overall assessment program, and how they used it to achieve a more comprehensive picture of their students' clinical competence. At the University of Nevada, Reno School of Medicine, Dr. Kirk Bronander uses the CDME as the second summative assessment during the course of the clerkship, accounting for 5% of students' total grade. He notes how the CDME provides a different form of assessment from the shelf exam, as it is presented in a different format and therefore can help evaluate students who excel in the clinic but have a tougher time on exams. Dr. Jen Readlynn at the University of Rochester School of Medicine and Dentistry uses the CDME as a formative assessment during her students' four-week internal medicine sub-internship. In this case, the goal of the exam is for students to gain an understanding of their clinical decision-making at the start of the sub-internship, so they can help students target specific cases and conditions during their rotation.
For more on the CDME, be sure to listen to Dr. Valerie Lang's podcast appearance, where she highlights the benefits of the exam and more ways to integrate the CDME into your assessment strategy.
More Formative Assessment Strategies
Summary Statements
Aquifer's summary statements can also be a powerful tool for formative assessment and coaching. Summary statements, found in many of Aquifer's Family Medicine, Internal Medicine, and Pediatrics cases, mimic the communication skills needed by students on rounds, calling consults, and writing patient progress notes.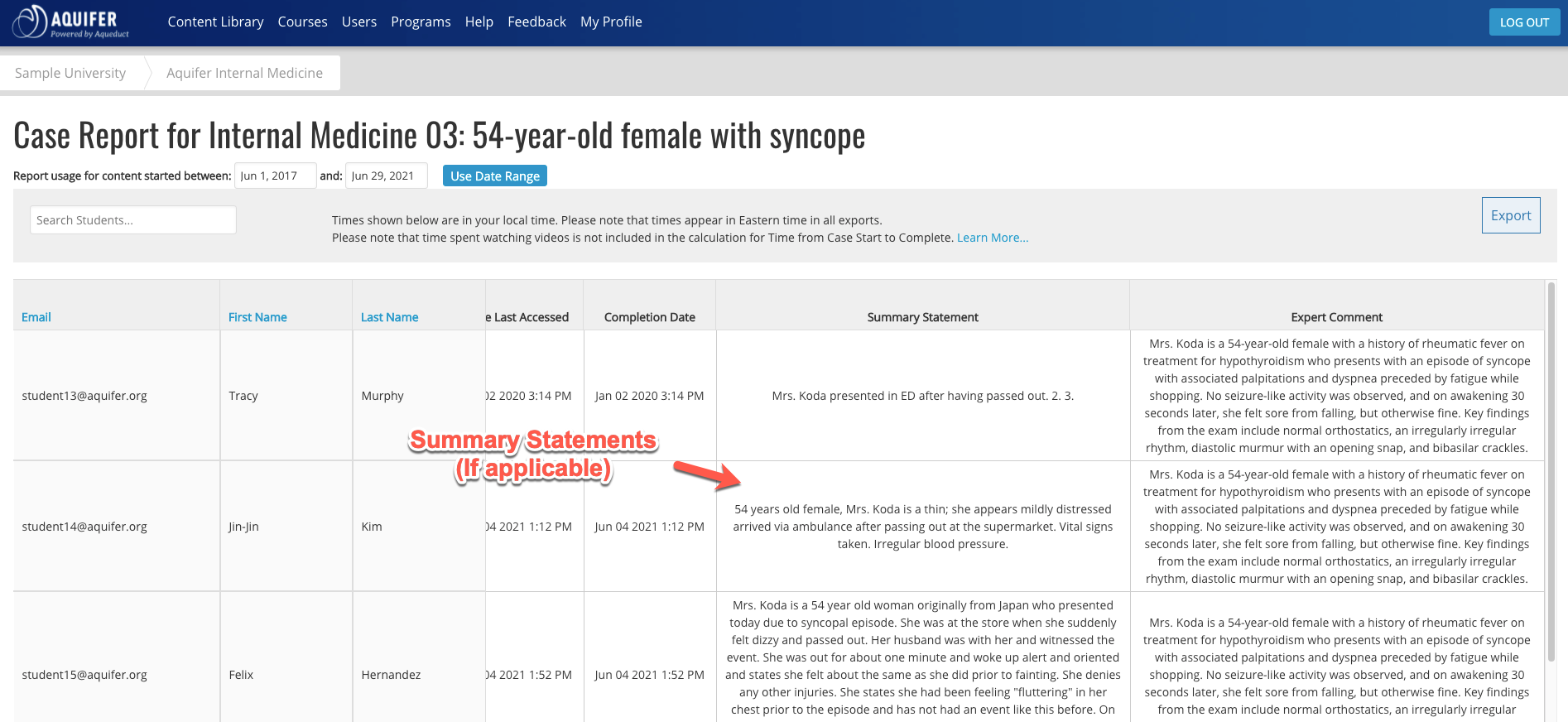 "This process acts as a surrogate for clinical reasoning skills, and a review of this work can be a window into the development of these skills and a useful tool for discussion and delivery of formative feedback," notes Sherilyn Smith, MD. In Aquifer's reporting, student summary statements are visible right next to the answer key to provide a fast, accurate evaluation of students' engagement with the case, and development of clinical communication skills. Dr. Smith recommends using this rubric as a framework for faculty to give targeted feedback to students.
For more on using Summary Statements, we recommend Dr. Smith's blog, "Providing Formative Feedback via Summary Statements."
Case Analysis Tool
Aquifer's Case Analysis Tool (CAT) is a structured worksheet to be completed by the student as they work through an Aquifer case, designed to enhance the development of clinical reasoning skills. Designed for use with Aquifer Pediatrics, it can also be used with Aquifer Family Medicine, Internal Medicine, and Geriatrics cases. 
The Case Analysis Tool is employed by educators in a variety of different ways. At Case Western Reserve University Physician Assistant Program, Sara Kraus, MMS, PA-C, and her colleagues use the Case Analysis Tool to give feedback to students in assessing their developing clinical reasoning skills. She notes how the CAT helps students by walking them through each step of the Aquifer case and aiding in organizing their critical thinking. By using it in conjunction with Aquifer cases, it helps students better explain their decision-making and learn to independently navigate clinical situations. The CAT can be used as a graded assignment, or to provide formative feedback to students.
For more about using the Case Analysis Tool, be sure to read Sara Kraus's blog, "Case Analysis Tool: Feedback for Developing Clinical Reasoning Skills."
Design Your Own Deliverable
Medical educators are also using Aquifer cases to create their own deliverables to assess student progress and knowledge gaps. Whether it is creating specific assignments around a case or set of cases, doing an oral presentation, or creating a management plan using the cases as standardized patients, Aquifer's cases can be utilized for a variety of different assessment needs.
At Washington State University Elson S. Floyd College of Medicine, Dr. Jaime Bowman creates tailored remediation plans for students using Aquifer cases to fill knowledge gaps. For example, she has students who struggle with managing child wellness visits use Aquifer pediatrics cases and have the student create a deliverable at the end of each case.  Dr. Ronda Mourad, of Case Western Reserve University School of Medicine, uses Aquifer cases to teach preclinical students how to write SOAP notes with consistency across clinical settings.
Learn More
For more information on how you can use Aquifer assessments and cases, visit our Educator Resources directory.
Assessment