May 19, 2020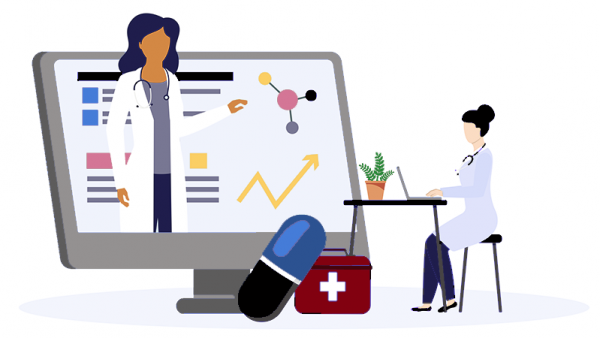 By: Karen McDonough, MD; Associate Professor, Division of General Internal Medicine & Jeanne Cawse Lucas, MD; Associate Professor, Theodore J. Phillips Endowed Professorship in Family Medicine | University of Washington School of Medicine
---
When the COVID 19 pandemic interrupted our first-year medical students' longitudinal primary care practicum (PCP), we needed to find an alternative that addressed one of its most important goals: helping students to focus the comprehensive history, exam, and documentation that they're taught in the clinical skills course into a primary care-appropriate presentation and SOAP note.  Our thoughts turned quickly to Aquifer, which is used by our internal medicine and pediatrics clerkships.  Many Aquifer cases integrate well with the basic science topics our first-year courses, but most seemed a little too advanced for a mid-first year student.   
At the same time, senior students were eager to find ways to help. Peer teaching has been shown to be beneficial for both teacher and learner in health sciences education (1,2,), so we decided to combine Aquifer cases with 'virtual' peer teaching via videoconference.  
Senior students guide learners through a single Aquifer case in a 2-hour videoconference, emphasizing the elements most relevant to our educational goals. Some of the cases are truncated in order to offer a more straightforward case presentation.  Cases align with the basic science block, but no pre-class preparation is expected.  A short facilitator guide, created by a student leadership team, prepares our peer teachers for each session.  EXAMPLE.  
Teachers screen share the case, and after reading key sections, they engage learners in developing a differential and coming up with relevant focused questions and exam maneuvers.   Once the history and exam are complete, learners independently compose summary statements, which they submit for discussion and feedback via the Zoom 'chat.'  They also write a SOAP note, which is submitted later for review, and receive an example SOAP note based on the case. Faculty mentors note that while the SOAP notes are all different from the distributed example, the quality of the notes is significantly higher than those that are usually submitted after a live PCP session.
Small groups will discuss five cases this quarter, one every two weeks: 
Pediatrics Case 13: A 6-year-old girl with chronic cough

Family Medicine Case 15: A 42-year-old male with right upper quadrant pain

Internal Medicine Case 8: A 55-year-old male with chronic disease management

Family Medicine Case 25: A 38-year-old male with shoulder pain

Family Medicine Case 5: A 30-year-old female with palpitations
Senior pharmacy students, also sidelined from clinical rotations, joined the Chronic Disease Management case to discuss diabetes therapy and the role of pharmacists in the primary care setting. 
Our senior students have enthusiastically embraced the role of peer teacher.  To prepare them, faculty have led sessions on small group facilitation, feedback, and teaching scripts.  After each Aquifer case discussion, we ask peer teachers to reflect on their performance and set goals for the next case.  For some sessions, a colleague joins them to observe and provide focused feedback on teaching.  
Although virtual peer teaching with Aquifer was born of necessity, we plan to continue it after the pandemic.  In addition to an opportunity to work on focusing history and physical exam, we feel that the structured SOAP note practice and opportunities for near-peer mentorship from senior students have been extremely beneficial to our community of learners and educators.
Bene KL, Bergus G. When Learners Become Teachers: A Review of Peer Teaching in Medical Student Education. 

Fam Med 

2014;46(10): 783-787. 

Hall S, Harrison CH, Stephens J, Andrade MG, Seaby EG, Parton W et al. (2018), The benefits of being a near‐peer teacher. 

Clin Teach

 2018;15:403-407.  
Example is linked to: Holmberg M, Jeong L, Karlsen L et al.  Virtual Near-Peer Clinical Teaching.  iCollaborative, Clinical Teaching and Learning without Patient Contact Collection.   
https://aamc-icollab.global.ssl.fastly.net/production/media/filer_public/72/78/7278e551-b573-4d07-ac53-8f1b9e4d0f22/virtual_near-peer_clinical_teaching_guide.pdf
Uncategorized