May 19, 2022
Applications Now Open for Aquifer Curricular Partner Medical Schools
Available for Family Medicine – Internal Medicine – Pediatrics – Radiology
Aquifer is excited to announce that our transformative Calibrate Pilot Program is now accepting applications from MD and DO schools that are Aquifer Curricular Partner Programs for the 2022-23 subscription year. 
Aquifer Calibrate is an innovative and evidence-based formative assessment system that gives new insight into clinical knowledge and cognitive competence by calibrating students' knowledge and certainty during applied problem-solving. Calibrate provides objective formative assessment data to fuel effective coaching and efficient self-directed learning. Assessments link to the national clerkship curricula, supporting a range of accreditation requirements and aligning faculty and students around an easy-to-adopt tool.
The Calibrate Pilot Program provides a unique opportunity to partner with Aquifer and play a role in driving the future of formative assessment. In addition to gaining early access to Calibrate assessments and new faculty development programs, pilot programs will provide critical feedback to inform optimizations before the availability of this new tool expands across medical and health professions education. 
Get to Know Calibrate
Benefits of Participation
Early Access to Calibrate
Pilot programs gain exclusive access to the Calibrate assessment system. Pilot access includes our user-friendly dashboard for assessment administration and actionable reports for students and faculty, all available in your Aquifer account. Access to learner cohort reports provides you with new insights into potential learning gaps in your curriculum, giving you a jump start on curricular and accreditation planning.  
Promote Self-Directed Learning
Calibrate empowers students to make the most of clinical learning experiences. By adding new dimensions for diagnosing problem areas like under or overconfidence and knowledge deficits, Calibrate empowers students to make the most of clinical learning experiences. Calibrate provides the tools needed to create targeted, individualized learning plans and supports accreditation standards on self-directed learning (LCME 6.3 and COCA 6.7). Learn more …
Access Faculty Development Coaching Training
As a pilot program, your faculty will have access to professional development focused on coaching learners to use Calibrate formative assessments to advance their learning during the clerkship and beyond. Aquifer's Peer Trainers, a team of health professions educators experienced in the use of Aquifer and coaching, will offer training and support on how faculty can better use the information provided from Calibrate assessments to help students develop and implement more effective learning plans. Peer Trainers will be accessible throughout the pilot, providing access to a community of academic coaches working to gather feedback and refine best practices as we advance the development of Calibrate.
In addition, precepting faculty and other clinical supervisors will be able to access just-in-time tools for coaching―including agenda templates, goal setting templates, tips for giving feedback, and checklists for success, all grounded in the output of Calibrate's reports.   
Training will also be available for all faculty on administration of assessments, interpreting reports, and advice for integrating Calibrate into your program.
Become an Innovation Partner
Pilot programs will be key partners in Aquifer's innovation process. Feedback from faculty and students will inform the future development and optimization of everything related to Calibrate, from technology to content, orientation to coach training. Pilot programs will have the opportunity to partner with Aquifer academic leadership on future scholarly projects.
Qualifications
The pilot program is currently open to all MD or DO programs that are Aquifer Curricular Partners for the 2022-23 subscription year (July 1, 2022 – June 30, 2023).To confirm subscription status, please contact the person at your school who manages your Aquifer account, or contact exams@aquifer.org.
The pilot program will open to physician assistant and nurse practitioner programs on January 9, 2023. Applications will open in the fall of 2022.
Requirements
Use Calibrate in Your Clerkship/Courses
Family Medicine – Internal Medicine – Pediatrics – Radiology
Enroll at least one clerkship or radiology elective (more encouraged) to administer Calibrate assessments between October 1, 2022 and January 31, 2023. We encourage pilot programs to continue using Calibrate through June 30, 2023.

For each enrolled clerkship/radiology elective, programs must ensure that all students:

complete an early Calibrate assessment within the first two weeks of the clerkship/course; 

complete a late Calibrate assessment (recommended in the last 2 weeks of the clerkship/course);

complete the Calibrate Debrief and Learning Plan Worksheet, using the results of their early assessment report; and

receive coaching regarding the implementation of their Learning Plan from a designed faculty member. Coaching tools & training are provided.

Each assessment takes about 1 hour to complete.

Proctoring is not required. Faculty can schedule assessments directly for groups of students in the dashboard, making the assessment available for up to 7 days; students complete the assessment on their own time.

Students and faculty will have immediate access to results reports after completing assessments.
Important Note: Calibrate reports are not intended and should never be used for evaluation or grading purposes (assessment of learning). The system is designed to be used as assessment for learning. Additionally, while the reports provide valuable information regarding accuracy and certainty, some aspects – such as the learning progress indicator flag, the clinical learning calibration values, and the coaching and learning tips – are undergoing additional validation throughout the pilot.
Faculty Development Training
Designate at least one lead faculty member per clerkship or course to participate in a maximum of 2 hours of Calibrate coaching training.

Ensure participating faculty and clinical supervisors are oriented to requirements and resources.

Aquifer Peer Trainers are available to consult and assist with training and orientation needs.

All designated faculty and clinical supervisors are encouraged to attend live training sessions as desired.

Online coaching tools and resources will be available to all faculty and clinical supervisors.
Provide Substantive Feedback to Aquifer
Pilot schools commit to responding to feedback requests and assisting in the collection of feedback if required. Feedback is critical to fueling the ongoing development of this new learning tool. Feedback includes:

Clerkship director and coaching faculty surveys (2-3 short surveys per clerkship)

Participating student surveys (3 short surveys)

A faculty coach focus group (at least 1 participant per school, more encouraged)
Timeline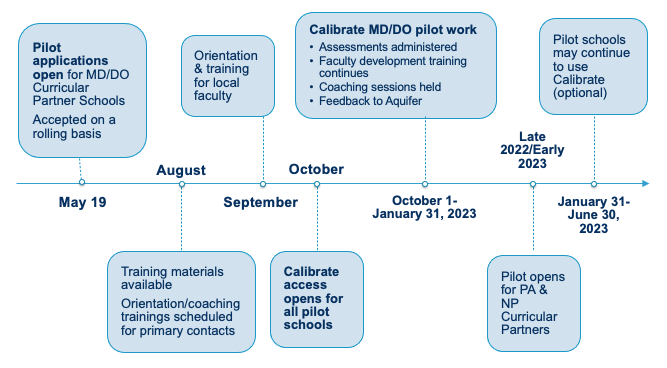 Learn More
Still have questions? We recommend watching the Calibrate webinar for a full view of this exciting new tool.
Application Process
Applications to the pilot program for allopathic and osteopathic programs are now closed.
In the news