Aquifer is proud to support faculty and students by providing access to trusted online clinical learning tools. As part of our non-profit mission, we offered free access to both subscribers and non-subscribing programs during the COVID-19 pandemic through June 30, 2020.
---
Making an Impact
Supporting Medical & Health Professions Programs
medical and health professions programs have been granted free access to our comprehensive library of courses.
---
Support & Training Resources
Although applications are now closed for free access through June 30, 2020, access to support resources for each of our three free access options are provided below.
For All Faculty & Staff
Peer Consultations are Available

Connect with an experienced medical educator to discuss your questions and learn best-practices. Schedule a consult…

User Story Videos

Hear how experienced educators are using Aquifer to maximize student engagement and teaching efficiency. View videos…

Blog: Teaching Pearls & Perspectives

Educator-to-educator tips and strategies to make the most of Aquifer cases. Read more…
For Programs with Free Access Through June 30, 2020
If your program is taking advantage of our free access for non-subscribing North American medical schools and physician assistant programs, the following resources are available for your unique situation:
---
Due to the extraordinary nature of this offer and our limited resources, onboarding support is limited to self-serve training materials.
Onboarding Course
NEW–Be sure to explore the new onboarding course when you sign in to your Aquifer account.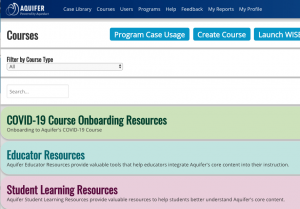 Physician Assistant Programs: Watch our Webinar
Full recordings and presentation slides are available from our recent webinar: Best Practices for Integrating Aquifer for Physician Assistant Programs. Learn more and watch now…
---
Complete Onboarding Video
The video below covers what you need to know to set up your account, serving as a condensed version of our usual onboarding call for new programs.
Find Cases & Build Custom Courses
With 146 cases available to you in the COVID-19 Response course, you'll want to use the searchable Case Library to build custom courses to help organize your content and students.
---
Teaching Strategies & Classroom Resources
---
Reporting
---
Educator Guides: Coming to Your Inbox
Your program's main contact will be sent a "Getting Started with Aquifer" email prior to your account going live that will include links to Educator Guides for all Aquifer courses that are included with your COVID-19 Response access. Be sure to read the Educator Guides, they are a wealth of information on using our system and understanding our comprehensive case content. Find out what is included…
If your program is taking advantage of our free learner-level access, available through June 30, 2020, the following support resources are available for you:
---
This webinar covered best practices for integrating Aquifer into the curriculum for programs with learner-level access, the difference between Aquifer individual and institutional subscriptions, and will offer breakouts with tips specific for Nurse Practitioner education programs, graduate and undergraduate medical schools as well as other health professions
---
Faculty Tool Kit Available
We are committed to helping your faculty and staff make the most of the free learner-level access available to your program. Look for a link to your Faculty Tool Kit in the "Faculty Tools & Access: Getting Started with Aquifer" email you will receive when your program's access is live.
Tracking case completions and reviewing student work
Teaching tips and strategies
Quick case guides, including differential and final diagnoses for your available cases
Ready-to-use group activities and discussion guides for High Value Care and Diagnostic Excellence
---
Frequently Asked Questions: Learner Level Access
Onboarding Course
Sign in to your Aquifer account to access our new onboarding course for COVID-19 response course users.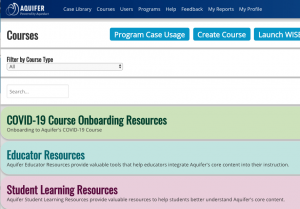 Video Overview for Current Subscribers
Frequently Asked Questions
If your program is taking advantage of our free access for non-subscribing North American medical schools and physician assistant programs, the following resources are available for your unique situation:

---

Due to the extraordinary nature of this offer and our limited resources, onboarding support is limited to self-serve training materials.

Onboarding Course

NEW–Be sure to explore the new onboarding course when you sign in to your Aquifer account.

Physician Assistant Programs: Watch our Webinar

Full recordings and presentation slides are available from our recent webinar: Best Practices for Integrating Aquifer for Physician Assistant Programs. Learn more and watch now…

---

Complete Onboarding Video

The video below covers what you need to know to set up your account, serving as a condensed version of our usual onboarding call for new programs.

Find Cases & Build Custom Courses

With 146 cases available to you in the COVID-19 Response course, you'll want to use the searchable Case Library to build custom courses to help organize your content and students.

---

Teaching Strategies & Classroom Resources

---

Reporting

---

Educator Guides: Coming to Your Inbox

Your program's main contact will be sent a "Getting Started with Aquifer" email prior to your account going live that will include links to Educator Guides for all Aquifer courses that are included with your COVID-19 Response access. Be sure to read the Educator Guides, they are a wealth of information on using our system and understanding our comprehensive case content. Find out what is included…

If your program is taking advantage of our free learner-level access, available through June 30, 2020, the following support resources are available for you:

---

This webinar covered best practices for integrating Aquifer into the curriculum for programs with learner-level access, the difference between Aquifer individual and institutional subscriptions, and will offer breakouts with tips specific for Nurse Practitioner education programs, graduate and undergraduate medical schools as well as other health professions

---

Faculty Tool Kit Available

We are committed to helping your faculty and staff make the most of the free learner-level access available to your program. Look for a link to your Faculty Tool Kit in the "Faculty Tools & Access: Getting Started with Aquifer" email you will receive when your program's access is live.

Tracking case completions and reviewing student work
Teaching tips and strategies
Quick case guides, including differential and final diagnoses for your available cases
Ready-to-use group activities and discussion guides for High Value Care and Diagnostic Excellence

---

Frequently Asked Questions: Learner Level Access

Onboarding Course

Sign in to your Aquifer account to access our new onboarding course for COVID-19 response course users.

Video Overview for Current Subscribers

Frequently Asked Questions