November 15, 2019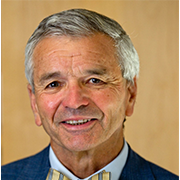 Charles Prober, MD is the Senior Associate Vice Provost for Health Education and Founding Executive Director of the Stanford Center for Health Education. He is a Professor of Pediatrics, Microbiology, and Immunology. He is an expert in pediatric infectious diseases with an academic career focused on the epidemiology, pathophysiology, prevention, and treatment of infections in children.
Dr. Prober has been involved in medical education throughout his career. He has directed a number of undergraduate and graduate student courses in the classroom and at the bedside. Dr. Prober served as Senior Associate Dean for Medical Education at Stanford from 2007-2017, and in that role he worked diligently to create a more diverse and supportive educational environment for students and graduate medical trainees. Some of the initiatives developed under his leadership included: the highly successful Educators-4-CARE (E4C) program, the Office of Medical Student Wellness, expansion of combined degree programs, and the creation of the Teaching and Mentoring Academy.
In addition to being a national advocate for enhancing the richness of interactions between faculty and students in medical education, Dr. Prober has advocated for a more measured approach to the use of national examination scores in the selection of residents, working with the leadership of the National Board of Medical Examiners (NBME) and the Association of American Medical Colleges (AAMC).  He is the recipient of multiple teaching awards, including the 2016 Henry J. Kaiser Family Foundation Award for Outstanding and Innovative Contributions to Medical Education.
Category:
Board of Directors