July 8, 2020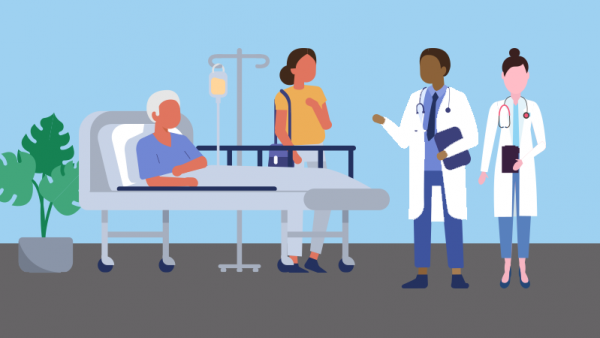 By: Rose Milando, Fourth-year Medical Student, George Washington University School of Medicine and Health Sciences & Natalia Perez, Fourth-year Medical Student, University of Maryland School of Medicine
---
As new fourth-year medical students, we have a lot of trepidation about what it will mean to be a doctor in less than a year, to have the weight and responsibility of patient care and decision-making in our hands. One of the most nerve-wracking aspects of being on our own as physicians is having to initiate tough conversations with patients, like discussing difficult diagnoses or end of life goals. 
Medical schools have always worked hard to provide fourth-year students with the clinical knowledge they'll need in order to survive as interns. But far less time is dedicated to teaching students how to convert that knowledge into effective, delicately nuanced conversations about diagnoses and prognoses with patients and their families. This gap isn't new, but it's being exacerbated by the educational limitations necessitated by the pandemic. In response to these gaps and limitations, we feel that fourth-year medical students would benefit from an elective dedicated entirely to learning, thinking about, and practicing these difficult skills before graduating. 
Given the current clinical and didactic limitations, there is a need for this elective to be offered online, in a thoughtful, well-rounded, and engaging format. Because Aquifer cases allow students to walk through clinical scenarios step by step, displaying sample dialogue, and prompting students to input their thoughts and responses as if they were the providers, Aquifer provides the perfect foundation for this elective. 
Building an Engaging Elective
First, we examined cases from a variety of Aquifer courses and found several cases that contained unique opportunities for students to practice these tough conversations. Based on what we found, we decided that the elective would work best as a two-week elective. Week one is dedicated to learning and practicing the complexities of end of life conversations, including the nuances of palliative care, hospice, advanced directives, health care proxies, and discussing goals of care. The next week is dedicated to the delivery of bad news, and how these conversations are informed by varying contexts, such as in the pediatric population, older patients with adult children, or patients with sexual or reproductive health concerns. 
We then paired each case with a series of outside, freely available narrative resources such as podcasts, graphic novels, TED talks, articles, poetry, photo essays, interviews and film clips, each which augment a student's understanding of the clinical situation presented in the case with personal stories.  
Knowing that institutions have differing faculty capabilities for online electives, we created two different schedules with modifiable levels of oversight and structure. Both schedules include assessments and essay questions to prompt students to reflect on what they've learned and to practice approaching these difficult conversations from a holistic, patient-centric perspective. 
Creating Space for Communication
Because of COVID-19, providers are delivering bad news and having end of life discussions with patients and their families at a different rate these days, in ways they weren't prepared for. But even outside of the pandemic, many medical students and residents have felt unprepared and uncomfortable having these difficult conversations. Although we can only speak from our experiences in medical school, we are confident that this problem exists for all health professional training programs as well. 
Our takeaways are twofold; first, we want to encourage institutions to look to their students for both curricular assessment and innovation in order to identify and fill gaps that exist. And secondly, we hope that in creating this elective, schools can provide an opportunity for their clinical students (no matter where they are) to engage in meaningful growth and reflection as they practice navigating these deeply personal conversations with compassion, curiosity, and humility.
---
Editors Note: The End of Life Care and Difficult Conversations elective has undergone peer review and is in the process of being added to Aquifer's Educator Resources. The authors are pleased to make the complete elective available here while the process concludes. This work was guided and overseen by Katherine C. Chretien, MD, Associate Dean for Student Affairs, Professor of Medicine, George Washington University School of Medicine and Health Sciences.
Exploring Our Content, Student Perspectives