Why PA Educators & Students Love Aquifer
"We use every Aquifer case available as preparation for clinical rotations and to assure competency at the end of our rotations and program. The best thing about the Aquifer cases is that they tie directly to certifying exam content, allow for the completion of competencies, and are well-received by the students."
– Robert Jay Amrien, MPAS, PA-C; Bryant University
"I enjoy the step-by-step way you go through the cases. I like that I can control how fast I go through the case and develop critical thinking skills as I try to make my own diagnosis. I appreciate the concise explanations of why an answer I selected was either right or wrong."
– PA Student
"I really value how close to real life Aquifer is! It makes me feel like I'm on rotation."
– PA Student
"The cases teach me so much! Whether it be ruling out diagnoses based on presentation or learning about other differential diagnoses and why they are not the answer, the cases are so helpful. They also have so much supplemental information for further explanation."
– PA Student
Supporting Physician Assistant Programs
With so much to cover in so little time, today's PA program directors and faculty need clinical learning tools they can trust.
Over 90 physician assistant programs, 96% of US allopathic medical schools, and a growing number of osteopathic & international medical schools trust Aquifer to standardize clinical experiences and develop clinical reasoning skills.
With 15 million virtual patient cases completed since our founding in 2006, Aquifer is the leader in developing clinical learning tools for medical and health professions education.
Find out how to access Aquifer
Physician Assistant programs across the country are using Aquifer to:
Standardize clinical rotations

Realistic scenarios walk through a complete patient encounter

Develop clinical decision-making skills

A safe space to practice before EOR's or OSCE's

Ensure coverage of key competencies

Fill educational gaps and level the playing field with trusted tools
Provide structured remediation

Rich case library for individualized learning targeted skills development

Support faculty with trusted tools

Ready-to-use teaching resources and classroom activities

Enhance their curriculum

Upgrade lectures, build electives, or supplement courses
The Most Informative & Up-to-Date Content
Consortium
The Aquifer Educators Consortium is made up of 70+ healthcare educators across disciplines who write, edit, and update Aquifer's course content, in addition to providing strategic academic leadership.
National Collaborators
Every course Aquifer delivers is created in close collaboration with a leading national organization. We're proud to partner with organizations like STFM, AAIM, AGS, COMSEP, and AUR to ensure that our content meets national standards.
Aquifer courses include a selection of cases specially developed to provide comprehensive coverage of a clinical discipline, specialty, or key topic. Each of our cases presents a virtual patient encounter—demonstrating best practices and modeling patient and preceptor interactions. Aquifer courses focus on teaching the evidence-based clinical reasoning skills that are vital to providing quality patient care.
Aquifer's discipline-specific courses—Aquifer Family Medicine, Internal Medicine, and Pediatrics—are our foundational courses, serving as key components of many programs' clinical rotations.
Aquifer Geriatrics and Radiology include top-quality content that can be integrated into other courses or rotations to provide instruction on these critical topics, or used as individual elective courses. These courses bring our expert healthcare educators—and a wealth of resources—to you and your students.
Aquifer's free courses on key topics like Social Determinants of Health, Foundations of Telemedicine, Diagnostic Excellence, and High Value Care deliver case-based learning and skill-building exercises. Use the courses as individual capstone projects, or integrate cases with other content in a custom course to meet your needs.
Aquifer Curricular Partners have access to the latest content, including Integrated Illness Scripts, Excellence in Palliative Care, and Trauma-Informed Care.
Aquifer partners with NYU and the Hazelden Betty Ford Foundation to offer access to WISE-MD (Surgery), WISE-OnCall (Readiness for Practice), and CARE (Course on Addiction Recovery Education).
A wealth of Educator Guides, resources, and tools are available to help you integrate our cases into your curriculum or course and make the most of your Aquifer subscription.
We have a range of ready-to-use tools for full classroom sessions, discussions in clinic, and more—perfect for supporting your faculty in delivering engaging case-based learning.
Standardized clinical experiences
Evidence-based, peer-reviewed content
Access to expert medical educators
Coverage of national curricular standards
Easy to use platform with reporting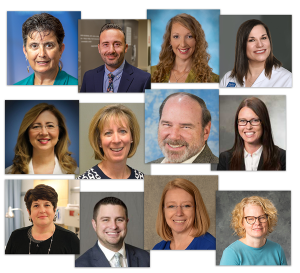 The Aquifer PA Task Force
The Aquifer Physician Assistant Task Force brings the voice, interests, and experiences of physician assistant educators to Aquifer, and works to develop educator tools and training materials.
Aquifer serves faculty and students in a total of 384 subscribing programs across a range of health professions. Our subscribers include physician assistant programs, in addition to allopathic, osteopathic, nursing, and residency programs across the US and beyond.
Our current physician assistant subscribers include:
AdventHealth University Master of Science in Physician Assistant Studies Program
Albany Medical College Center for Physician Assistant Studies
Alderson Broaddus University Master of Science in Physician Assistant Studies Program
Baylor College of Medicine Physician Assistant Program
Boston University School of Medicine Physician Assistant Program
Bryant University Physician Assistant Studies Program
Butler University Physician Assistant Program
California Baptist University Master of Science in Physician Assistant Studies Program
Campbell University Master of Physician Assistant Practice Program
Case Western Reserve University Physician Assistant Program
Chapman University Physician Assistant Program
Charles R. Drew University of Medicine and Science Physician Assistant Program
Christian Brothers University Physician Assistant Program
City University of New York School of Medicine Physician Assistant Program
City University of New York York College Physician Assistant Program
Des Moines University Physician Assistant Program
DeSales University Master of Science in Physician Assistant Studies
Dominican University of California Physician Assistant Program
Duke University School of Medicine Physician Assistant Program
Duquesne University Physician Assistant Studies Program
East Carolina University Department of Physician Assistant Studies
Eastern Michigan University Physician Assistant Program
Emory and Henry College Master of Physician Assistant Studies Program
Florida Gulf Coast University Physician Assistant Program
Florida State University School of Physician Assistant Practice
Franciscan Missionaries of Our Lady University Physician Assistant Program
Franklin College Physician Assistant Program
Gannon University Erie Campus Physician Assistant Program
Gannon University Ruskin Campus Physician Assistant Program
Gardner-Webb University Physician Assistant Studies Program
George Washington University Department of Physician Assistant Studies
Hardin Simmons University Physician Assistant Program
Hofstra Northwell Department of Physician Assistant Studies
Johnson and Wales University Master of Science in Physician Assistant Studies Program
Keck School of Medicine at the University of Southern California Physician Assistant Program
Keiser University Physician Assistant Program
Kettering College Physician Assistant Program
Lake Erie College Physician Assistant Program
Lincoln Memorial University School of Medical Sciences Harrogate Tennessee Physician Assistant Program
Marietta College Physician Assistant Program
Marshall B. Ketchum University School for Physician Assistant Studies
Medical University of South Carolina Physician Assistant Studies Program
MGH Institute of Health Professions Master of Physician Assistant Studies Program
Midwestern University Downers Grove Master of Medical Science in Physician Assistant Studies
Midwestern University Glendale Master of Medical Science in Physician Assistant Studies
Missouri State University Physician Assistant Studies Program
Monmouth University Master of Science in Physician Assistant
Morehouse School of Medicine Physician Assistant Program
Mount St. Joseph University Physician Assistant Program
New York Institute of Technology Physician Assistant Studies Program
Northeastern University Physician Assistant Program
Northern Arizona University Physician Assistant Program
Ohio University Physician Assistant Program
Oregon Health Science University School of Medicine Physician Assistant Program
Pace University Lenox Hill Hospital Department of Physician Assistant Studies
Pace University Master of Science in Physician Assistant Studies Pleasantville
Pennsylvania State University College of Medicine Physician Assistant Program
Philadelphia College of Osteopathic Medicine Philadelphia Campus Physician Assistant Studies Program
Radford University Carilion Physician Assistant Program
Rocky Mountain College Physician Assistant Program
Rosalind Franklin University of Medicine and Science Physician Assistant Program
Rutgers University Physician Assistant Program
Sacred Heart University Physician Assistant Program
Saint Louis University Physician Assistant Program
Salus University Physician Assistant Program
Seton Hall University Physician Assistant Program
South College Knoxville Master of Science in Physician Assistant Program
South College Nashville Master of Science in Physician Assistant Program
Southern California University of Health Sciences Physician Assistant Program
Springfield College Physician Assistant Program
Stanford School of Medicine Master of Science in Physician Assistant Studies Program
State University of New York Upstate Medical University Physician Assistant Program
The Lewis Katz School of Medicine at Temple University Physician Assistant Program
The University of Toledo Physician Assistant Program
Thomas Jefferson University Center City Campus Physician Assistant Studies Program
Touro University California Joint MSPAS/MPH Program
Tufts University School of Medicine Physician Assistant Program
University of Alabama at Birmingham Physician Assistant Studies Program
University of Arkansas for Medical Sciences Physician Assistant Program
University of Bridgeport Physician Assistant Program
University of Colorado School of Medicine Physician Assistant Program
University of Dayton Physician Assistant Program
University of Detroit Mercy Physician Assistant Master of Science Program
University of Evansville Physician Assistant Program
University of Florida Physician Assistant Program
University of Iowa Physician Assistant Program
University of La Verne Physician Assistant Program
University of Maryland Baltimore/Anne Arundel Community College Physician Assistant Program
University of Michigan Flint Master of Science Physician Assistant Program
University of Missouri Kansas City Master of Medical Science Physician Assistant Program
University of New Mexico Physician Assistant Program
University of North Carolina at Chapel Hill Physician Assistant Program
University of North Dakota Physician Assistant Program
University of North Texas Health Science Center Physician Assistant Program
University of Oklahoma Tulsa School of Community Medicine Physician Assistant Program
University of South Carolina at Columbia Physician Assistant Program
University of South Dakota Master of Science in Physician Assistant Studies
University of Texas Medical Branch at Galveston Physician Assistant Program
University of Texas Southwestern Medical Center Physician Assistant Studies Program
University of Wisconsin La Crosse Physician Assistant Program
University of Wisconsin School of Medicine and Public Health Physician Assistant Program
Valparaiso University Physician Assistant Program
Wake Forest School of Medicine Physician Assistant Program
Wayne State University Physician Assistant Studies Program
Western University of the Health Sciences Master of Science in Physician Assistant Studies
Westfield State University Physician Assistant Program
Wingate University Department of Physician Assistant Studies
Yale School of Medicine Physician Associate Program