The 36 interactive virtual patient cases in Aquifer Internal Medicine deliver on the learning objectives of Clerkship Directors in Internal Medicine's (CDIM) General Internal Medicine Core Medicine clerkship curriculum.
Overview
Aquifer Internal Medicine builds clinical competency and fills educational gaps in internal medicine curricula. The course fosters self-directed and independent study, develops clinical problem-solving skills, and teaches an evidence-based, patient-centered approach to health care.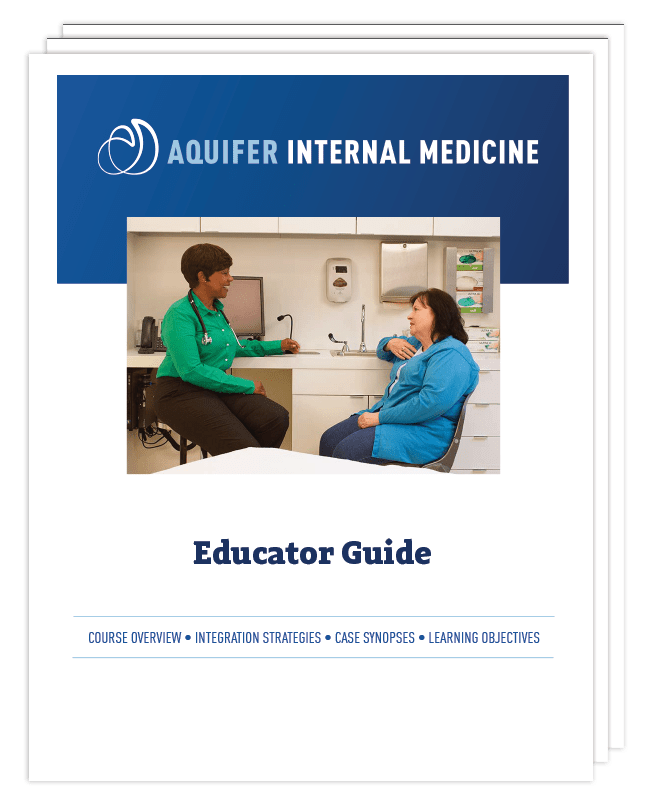 Course Overview – Integration Strategies – Case Synopses – Learning Objectives – Features & Resources
The Educators Guide—available to all subscribers—provides a quick reference guide for all cases, resources, and features included with Aquifer Internal Medicine. The Educator Guide is ideal for educators who are getting started using Aquifer, or experienced users who want to be sure they are taking advantage of Aquifer's extensive resources and tools.
Educator Guides are available in the Educator Resources section of your Aquifer account. Learn more…
User Story Video
Learn how Aquifer Internal Medicine can benefit medical students and faculty in your program:
Aquifer Internal Medicine Course Board