OUR EXPANDING IMPACT
IN THIS UNPRECEDENTED YEAR
From Our Leadership
As the pandemic stretches on, we are proud to share the unexpected ways that Aquifer fulfilled our mission this year.
We are humbled by the gratitude our colleagues using Aquifer have expressed for our COVID-19 response. It was an honor to be able to provide free content to 489 health professions programs in the US and abroad, and to provide over a million dollars in financial support to programs needing to maintain full course library access.
Overwhelmingly, faculty report that our cases were the bedrock of distance learning programs, allowing meaningful clinical and didactic learning to continue at this critical time. As students were pulled from clinical rotations and classrooms, quarantined, or faced with shortened rotations or patient shortages, our trusted cases—designed specifically to fill gaps in clinical experiences—delivered value for our faculty and students under circumstances that we never imagined.
Thanks to the hard work of our Educators Consortium, contributors, and staff over many years, we were able to scale up to meet the emerging needs of health professions education in this time of crisis—including providing virtual opportunities for faculty to connect, share successful integration strategies, and quickly learn best practices.
As medical educators ourselves, we understand that the challenges our colleagues continue to face are extraordinary. We take pride in our response to date, and assure you that we will continue to be here to support you and your students—whatever may come next.
Sincerely,
Leslie Fall, MD
Chief Executive Officer
Sherilyn Smith, MD
Chief Academic Officer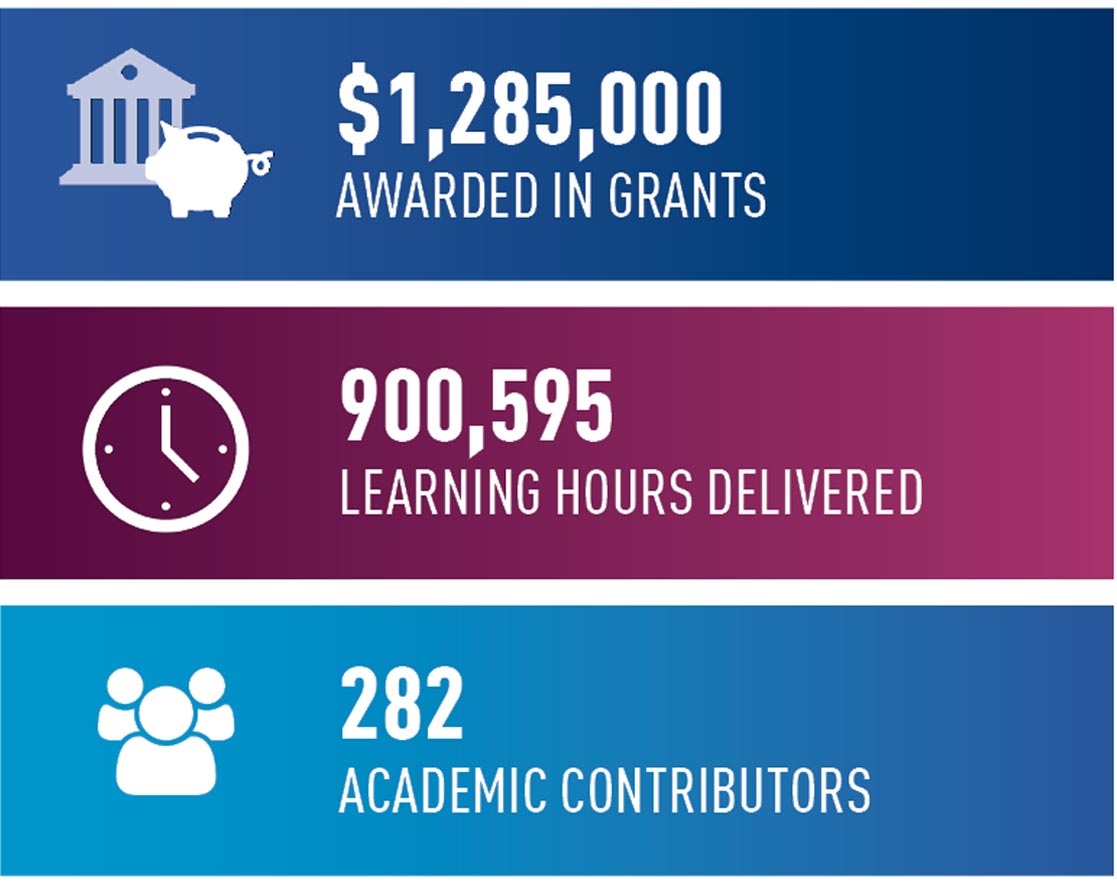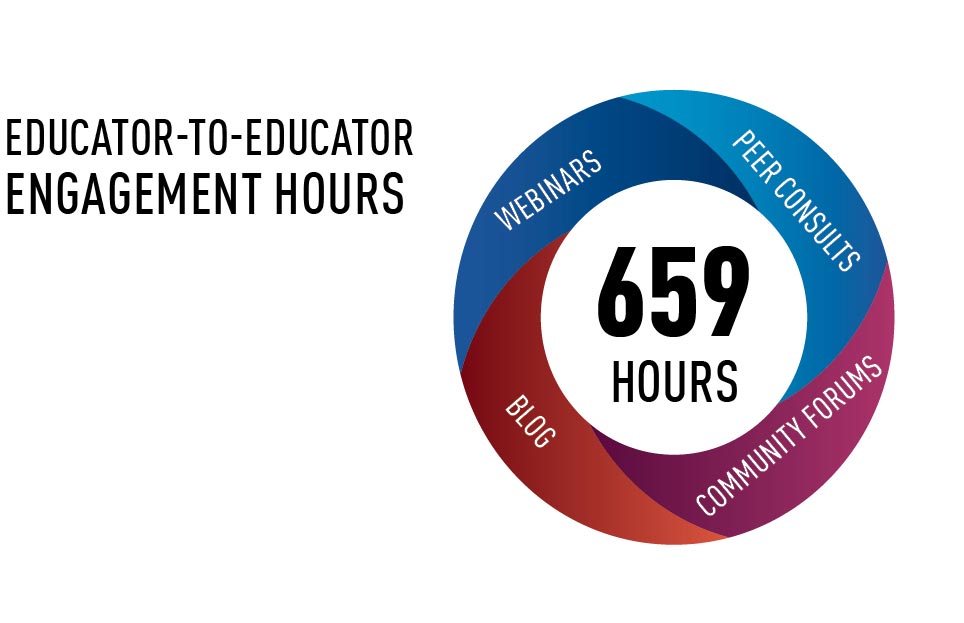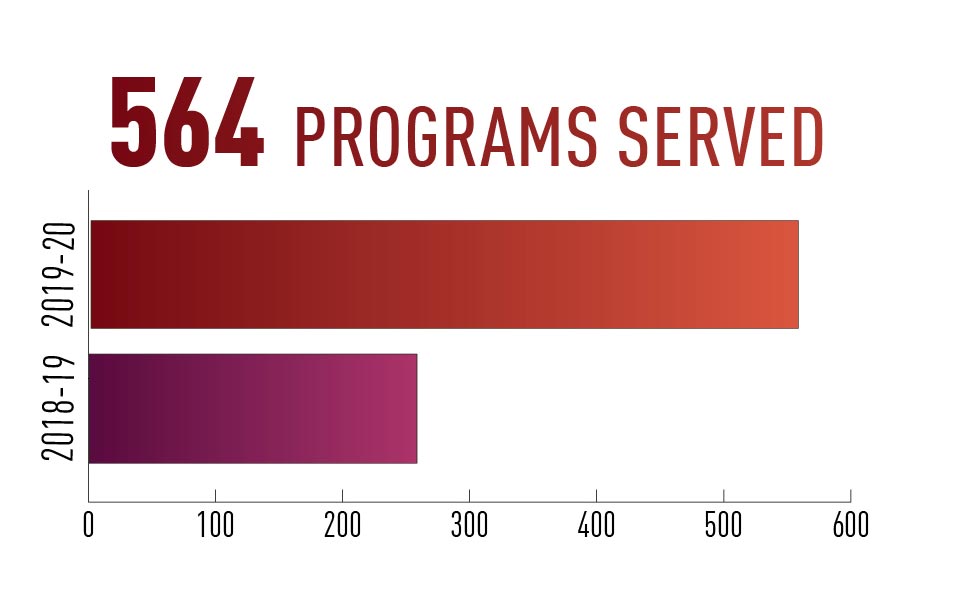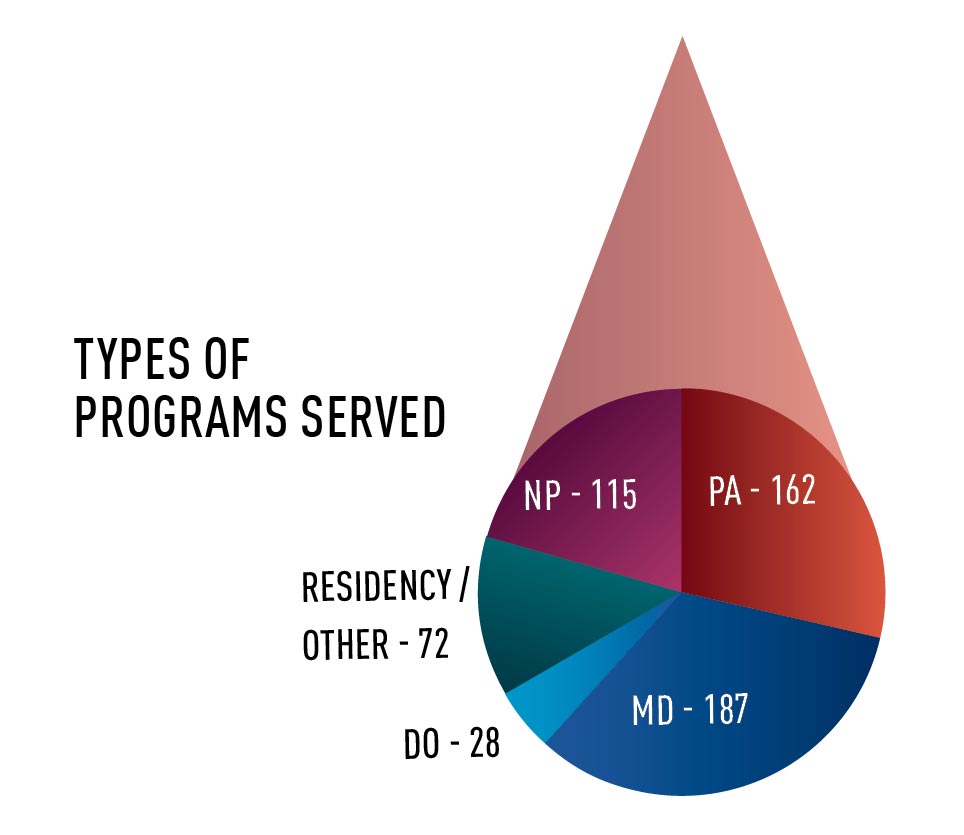 AQUIFER'S
COVID-19 RESPONSE
Free CONTENT

Offer launched

Aquifer begins offering free access to all content for existing subscribers through June 30, 2020. The offer is soon expanded to non-subscribing programs.
VIRTUAL EXAM
PROCTORING LAUNCHED
Aquifer offers virtual exam proctoring for our 100- question multiple choice exams. 2,321 EXAMS were proctored virtually as of June 30, 2020.
Community Forums
After national meetings were canceled, Aquifer hosted community forums to bring together medical educators in collaboration with our partners at COMSEP, AAIM & AUR
Educator-to-Educator Support
WEBINARS – PEER CONSULTATIONS – BLOG
As faculty worked to rapidly implement virtual learning, we created events and tools for educators to share tips and best practices.
FREE CONTENT

DELIVERED for

489 Programs

We provided free content to a total of 489 programs—serving an extraordinary portion of the medical and health professions education faculty and students in the U.S. and beyond.
$1.2 Million

Awarded to
162 programs in
Full Course Library grants

As the pandemic stretched on, Aquifer launched a grant program to reduce the cost of maintaining access to our full course library from July 1, 2020–June 30, 2021.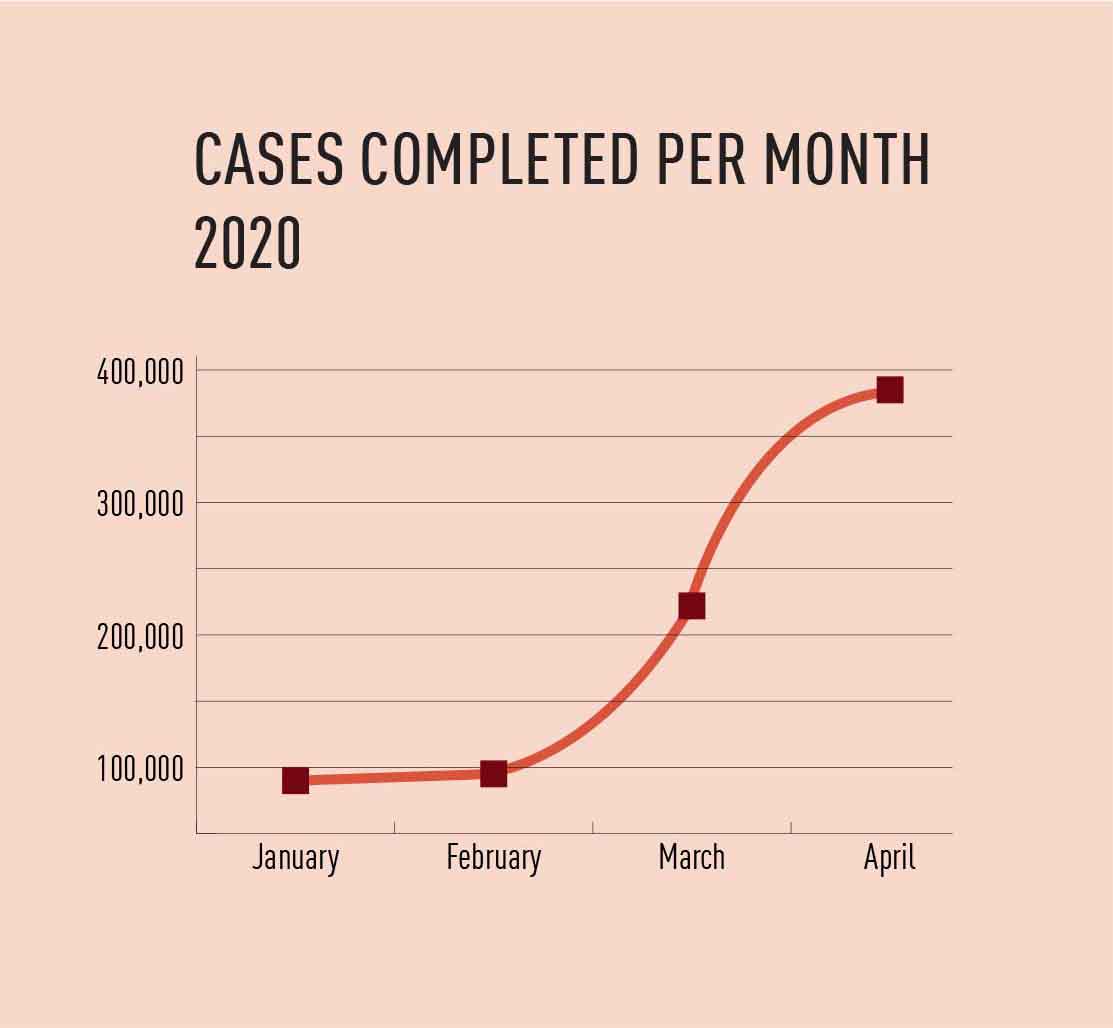 "Aquifer is mission-critical to our curriculum during the COVID-19 pandemic. We appreciate the significant level of support Aquifer has provided."
Frank H Netter MD School of Medicine
at Quinnipiac University
"Aquifer has filled a huge gap and lessened the workload of our faculty and preceptors. The preceptors are excited to incorporate Aquifer into their clinical setting once students return to their sites, especially if patient volume remains low."
Butler University
Physician Assistant Program
LOOKING FORWARD:
ADVANCING INNOVATION & KEY INITIATIVES
FY 2020-21 Subscriptions Continue to Grow
Expanding focus:
INTEGRATION & educator SUPPORT
As of July 1, 2020, 100 new programs began using Aquifer and course subscriptions doubled. Our goal is to help all educators and students optimize their teaching and learning experiences with Aquifer cases in any learning environment. To advance this goal, we are expanding our educator resources, webinars, blogs, and customer success support, in addition to exploring new ways to help all users make the most of Aquifer.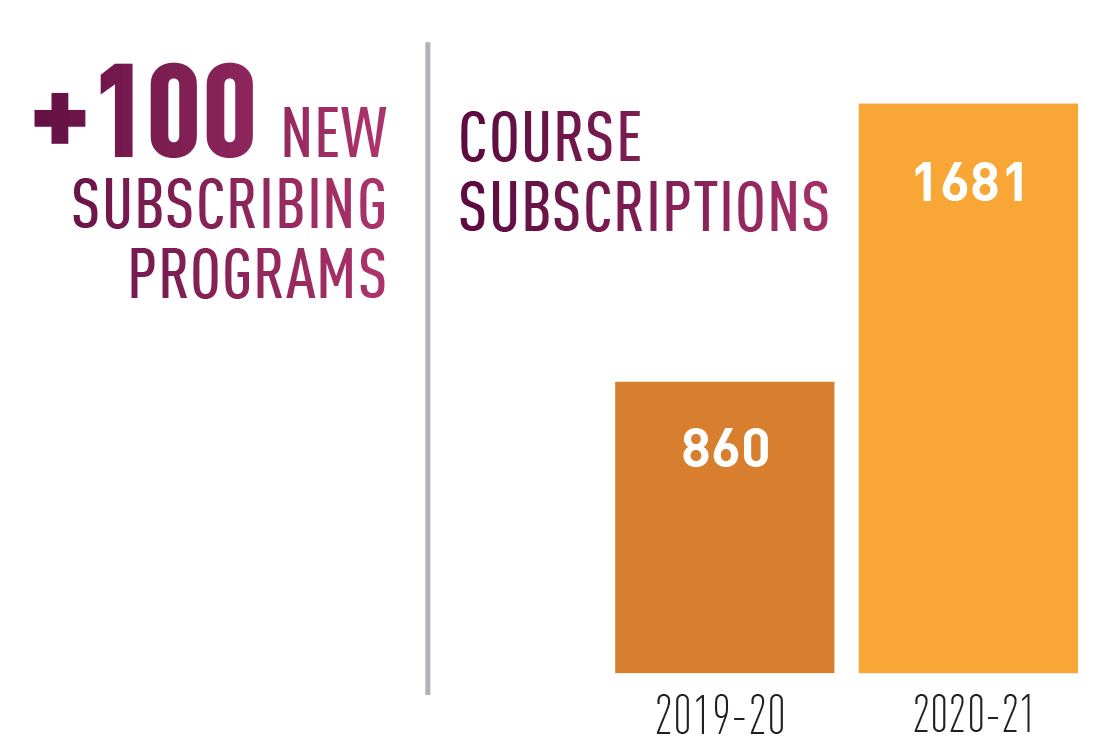 COMING IN 2021:
integrated illness Scripts
Integrated Illness Scripts support efficient integration of basic science knowledge and clinical learning and develop students' problem solving skills by embedding basic science core concepts, causal mechanisms, and mechanism of disease maps for each core condition into simple, easy to use tools.
Development CONTINUES:
FORMATIVE Assessments
Work is advancing on our formative assessments for test-enhanced learning, which will provide granular feedback for calibration and self-directed learning to students, while identifying curricular gaps and at-risk students for faculty.
INITIATIVE:
social determinants of health
Aquifer welcomes Angelique Redus-McCoy, MD as our new Director of Diversity, Equity & Inclusion. Her work will include ensuring Aquifer's cases actively teach cultural humility and health equity.
NEW COURSE in DEVELOPMENT:
PALLIATIVE CARE
Plans are underway to develop a course on Principles and Practice of Excellence in Palliative Care, designed for undergraduate health professions students, made possible by a grant award from the Arthur Vining Davis Foundations.
INITIATIVE:
Expanding Student voices
Following the success of the Student Advisory Group, we are working to expand opportunities for students to provide feedback and contribute to academic projects.
INITIATIVE:
Expanding interprofessional voices
We are pleased to expand our consortium to include new interprofessional educators from Physician Assistant and Osteopathic programs, and to build on the work developed by our Physician Assistant and Osteopathic Education task forces.
EDUCATORS CONSORTIUM
AQUIFER'S DYNAMIC COMMUNITY OF INTERDISCIPLINARY EDUCATORS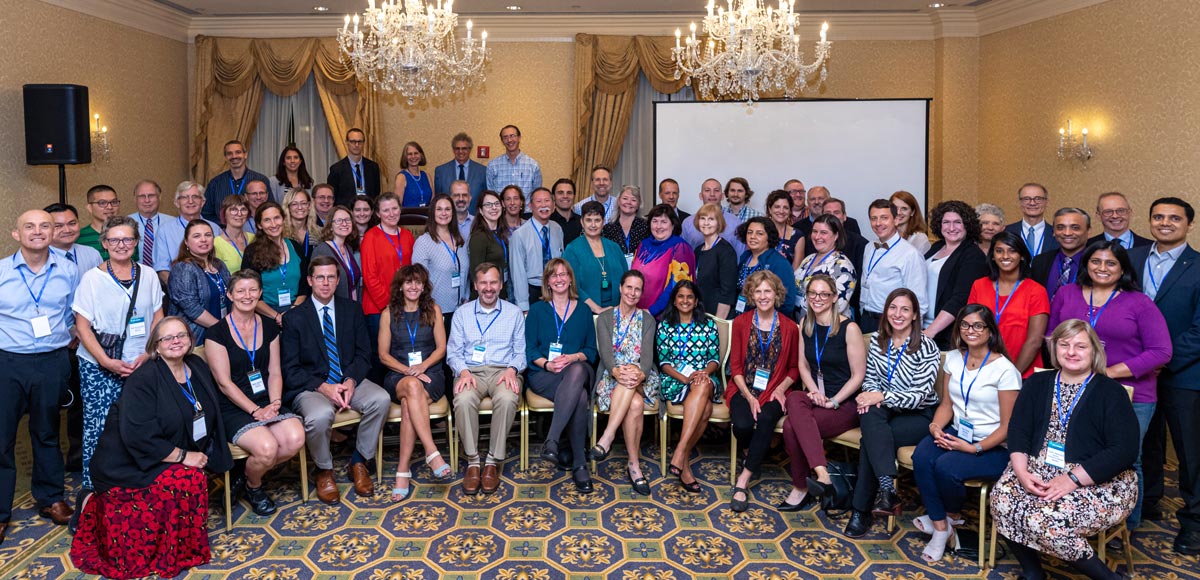 The Aquifer Educators Consortium is a group of leading educators who come together from across disciplines to create innovative teaching and learning tools, build a cohesive pedagogy, and constantly update Aquifer's trusted cases and assessments.
2019-20 CONSORTIUM: JULY 1, 2019 – June 30, 2020
Academic Directors
Alexander Chessman
Valerie Lang
Stephen Scott
Sherilyn Smith
Student Engagement Leads
Jennifer Bierman
Katherine Chretien
DIAGNOSTIC EXCELLENCE
Kathleen Lane
Juan Lessing
Andrew Olson
FAMILY MEDICINE
David Anthony
Elizabeth Brown
Jason Chao
Katherine Margo
Tomoko Sairenji
Martha Seagrave
Augustine Sohn
John B. Waits
Jordan White
GERIATRICS
Kathryn Callahan
Kathryn Denson
Lauren Gleason
Rosanne Leipzig
Becky Powers
Ravi Ramaswamy
Andrea Schwartz Mandi Sehgal
Amit Shah
Quratulain Syed
HIGH VALUE CARE
Jimmy Beck
Heather Harrell
Amit Pahwa
Haritha Pavuluri
INTERNAL MEDICINE
Irene Alexandraki
Amy Blatt
Kirk Bronander
Lisa Calvo
Shobhina Chheda
Kendall Novoa-Takara
Joseph Wayne
Jennifer Wright
Pediatrics
Darshita Bhatia
Michael Dell
Robert Drucker
Melissa Held
Erin McMaster
Glen Medellin
Katherine Murray
Molly Rideout
Jamie Sutherell
Erica Taylor
Stephen Tinguely
culture in health & medical home
Alicia Freedy
RADIOLOGY
Carl Fuhrman
Judy Gadde
Pauline Germaine
Jeffrey Hogg
Melissa Manzer
Jennifer Koay White
SCIENCES
Robin English
Leslie Fall
Tracy Fulton
David Harris
Khiet Ngo
James Nixon
Amy Wilson-Delfosse
2019-2020 ACADEMIC
CONTRIBUTORS
JULY 1, 2019 - JUNE 30, 2020
The Aquifer Educators Consortium is supported by a talented group of educators and students contributing to content and assessment review, developing new projects, presenting on webinars, and providing key feedback.

Reeni Abraham
Irsk Anderson
Andrea Arena
Dolapo Babalola
Jeff Brensilver
Rebekah Burns
Harris Burstin
Lavjay Butani
Rebecca Cantone
Margot Cohen
Joan Connell
Vanessa Curtis
Marie Dawlett
Maria Syl de la Cruz
Lauren Demosthenes
Catherine Derber
Deborah DeWaay
Shadi Dowlatshahi
Monica Edwards
Pamela Fall
Siddhartha
Gaddamanugu
Ellie Garbade
Rahul Garg
Jonathan Gold
William Hay
Kristen Hood
William Huang
Elizabeth Kaplan
Maria Kelly
Marta King
Stella King
Amalia Landa-Galindez
Kristen Lewis
Allison Macerollo
Mai Mahmoud
Renee Mallory
Michelle McNamara
Desmin Milner
Matt Mischler
Lynda Misra
Cathleen Morrow
Ronda Mourad
Vasil Nika
Amimi Osayande
Christine Osborne
Wilbur Pan
Thomas Presenza
Patricia Quigley
Amanda Raff
Temple Ratliffe
Jennifer Readlynn
Aaron Reiter
Cheryl Sadowski
M. Lee Sanders
Suchita Shah Sata
Ankur Segon
Jenny Shen
Aditi Singh
Meenu Singh
Lori Singleton
David Smith
George Sorescu
Radhika Sreedhar
Shobha Stack
Sarah Steinkruger
Kim Tartaglia
Heather Taylor
Nina Terry
Rachel Thompson
Michael Torres
Meghan Train
Katherine Twist
Homan Wai
Alice Walz
Flint Wang
Jackie Weaver-Agostoni
Adam Weinstein
Sara Wikstrom
Joanne Williams
Mindy Yang
Erin Zahradnik
Jay Zimmermann
Assessment Contributors
Jonathan Appelbaum
Nancy Baker
Fatuma Barqadle
Angela Beckert
Mariquita Belen
Paul Bergl
Chris Bergsman
Latasha Bogues
Rebecca Carter
Stephanie Conrad
Amy Creel
Vanessa Curtis
Anthony Dambro
Kathryn Denson
Shadi Dowlatshahi
Beth Emrick
Siddhartha Gaddamanugu
Roderick Go
Elon Granader
Emily Haury
Miranda Huffman
Melissa Jenkins
Conrad Krawiec
Samantha Lau
Townes Leigh
Kyra Len
Mark Lisle
James Lyons
Brian Markovich
Dana Mazuru
Patricia McBurney
Grace Mitchell
Jorge Mora
Holli Neiman-Hart
Ashwini Niranjan-Azadi
Maureen Novak
Cara O'Brien
Chavon Onumah
Jennifer Pascoe
Ayla Pelleg
Parvathi Perumareddi
Christopher Peters
Jennifer Plant
Deborah Rana
Zayd Razouki
Jennifer Readlynn
Michael Rotblatt
Abdul Rahman Tarabishy
Kristi VanDerKolk
Velyn Wu
Anna Zajicek
Webinar & blog Contributors
Chris Anderson
Dave Anthony
Barbara Capozzi
Joyce Cappiello
Jeanne Cawse-Lucas
Michael Dell
Linda Eastman
Nadia Ismail
Anjali Kumar
Erik Langenau
Jensen Lewis
Cynthia Lord
Karen McDonough
Rose Milando
Glenn Moulder
Andrew Parsons
Donna Pelletier
Natalia Perez
Jacob Prunuske
Stacey Rose
Mandi Sehgal
Rachel Thompson
Anne Walsh
Joseph Wayne
Michele Zawora
Suzanne Weiner
Sciences Curriculum
Editorial Board
Judy Aronson
Jon Bernstein
Youngjin Cho
Susan Cline
Bonny Dickinson
Anna Edmonson
Eve Gallman
Katherine Hyland
Julie Kerry
Virgina Lyons
Ann Poznanski
Donna Russo
Leah Sheridan
John Szarek
Sciences Clinical Education Consultants
Mayada Akil
Feroza Daroowalla
Joanna Drowos
Kevin Grimes
Felise Milan
Wei Xiong
Sciences Genetics
Curriculum Team
Jon Bernstein
Shoumita Dasgupta
Kate Garber
Katherine Hyland
Lauren Meyer
Erin Strovel
Anica Wandler
Tracey Weiler
Physician Assistant
Education Task Force
Zehra Ahmed
Whitney Balmert
Melissa Bowlby
Angela Jean Cerezo
Kristin D'Acunto
Kathleen L. Ehrhardt
Tanya Fernandez
Kindred Harland
Karen Hills
Jensen Lewis
Cynthia Lord
Denise Ogden
Anne Walsh
Jennifer Wohl
Michele Zawora
Student Advisory Group
Timothy Fisher
Philip Jurasinski
Priya Kantesaria
Hope Knochenhauer
Andres Lopez
Brienna Milleson
Wafa Nabi
Evgeniya Rakitina
Yana Salei
Sapna Syal
Georgia Vasilakis
Julie Chew
Parissa Ferguson
Osteopathic Education Task Force
Michael Becker
Peter Bidey
Barbara Capozzi
Elizabeth Ciccocioppo Pezoa
Stephanie Ferretti
Marie Fleury
Kenneth Heiles
Bhavesh Joshi
Erik Langenau
Robert Lloyd
Catherine Macyko
Kevin Treffer
AQUIFER BOARD OF DIRECTORS
Margaret Mulley, CPA; Chair
Stephen Lawe, Treasurer
K. Blake Darcy
Jan Jones-Schenk, DHSC, RN, NE-BC
Bruce Z. Morgenstern, MD
Charles G. Prober, MD
Leslie Fall, MD
CEO & Ex-Officio Board Member