OUR CONTINUING IMPACT
2020-2021 BY THE NUMBERS
1.7 MILLION CASES USED THIS YEAR
• Used in 96% of US allopathic medical schools
• 70% of osteopathic medical schools, and a
• Growing number of physician assistant and nursing programs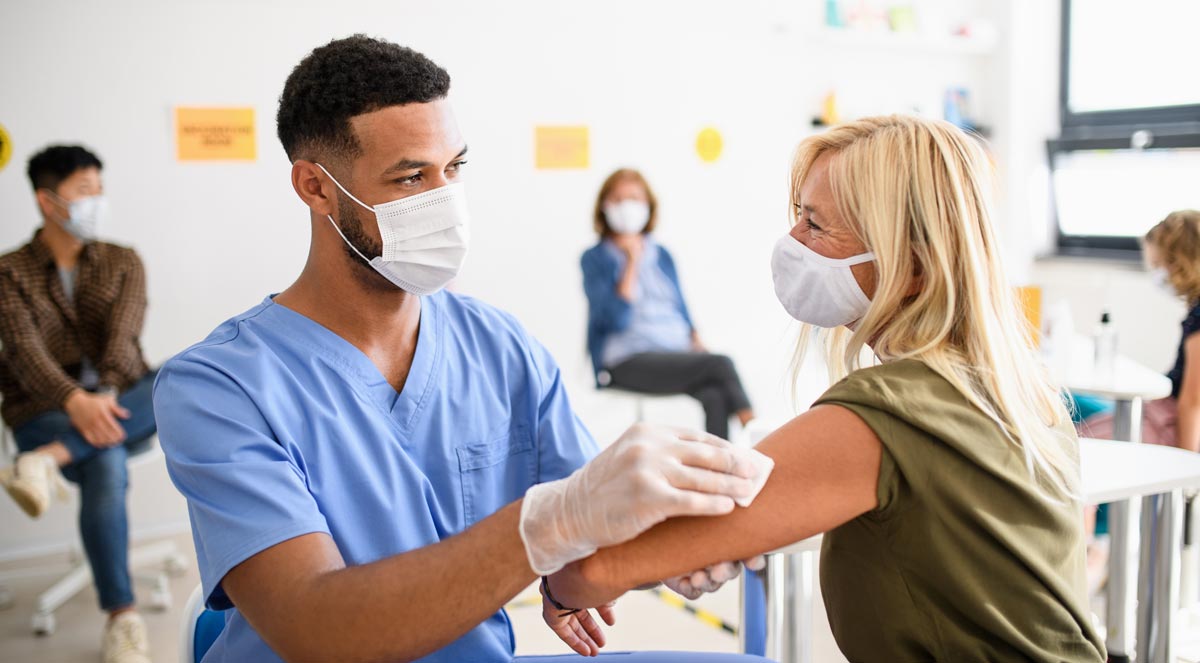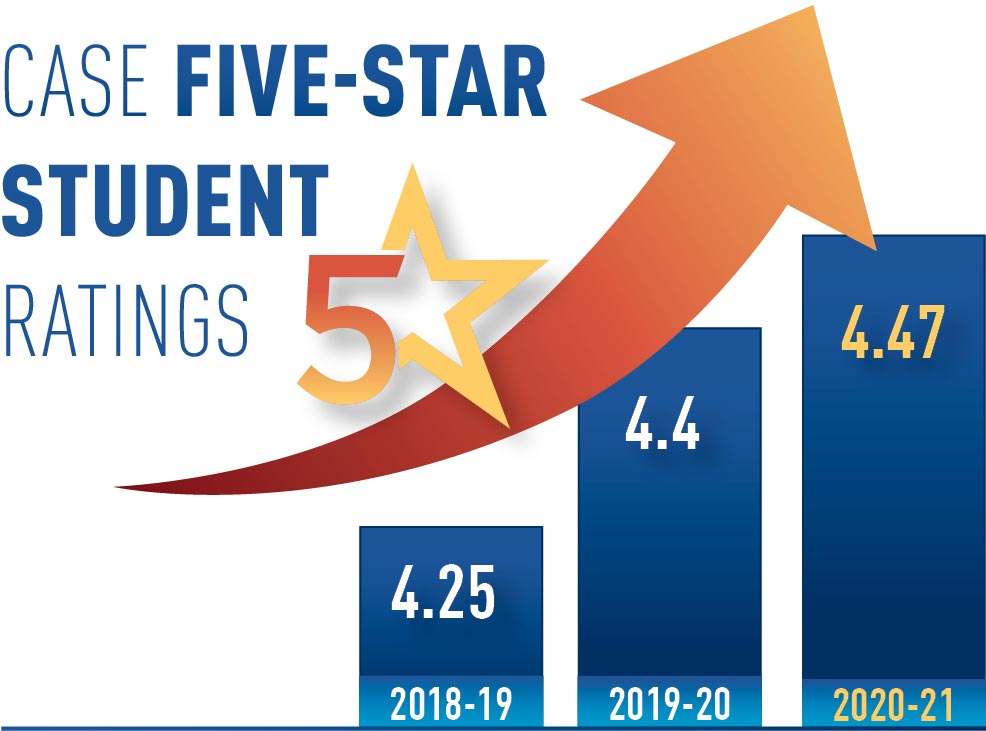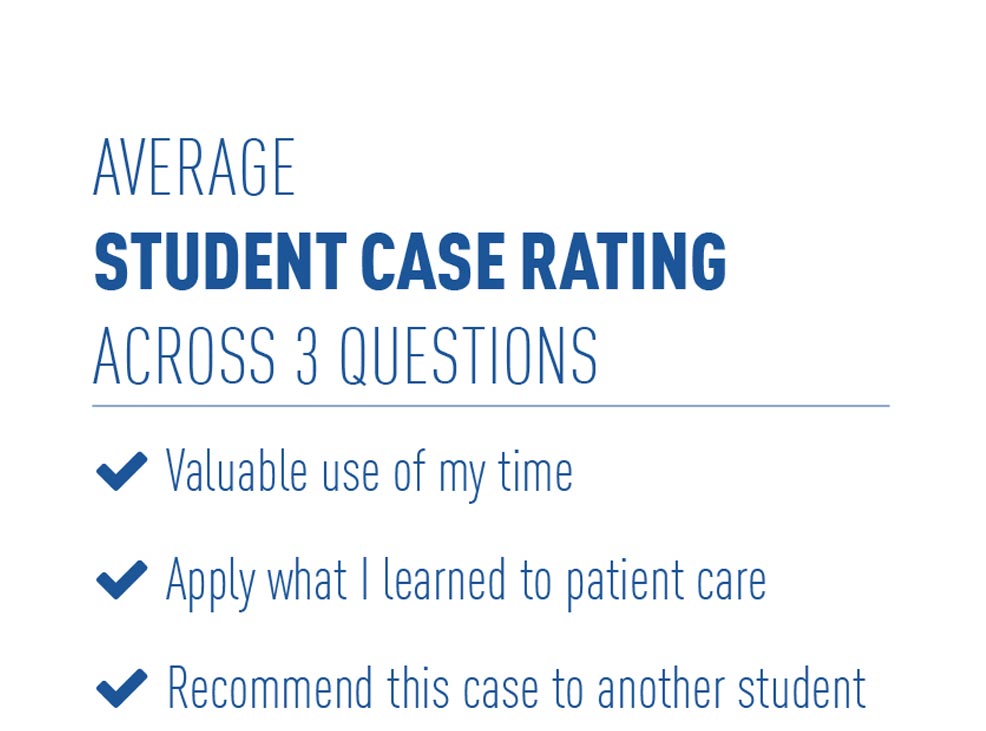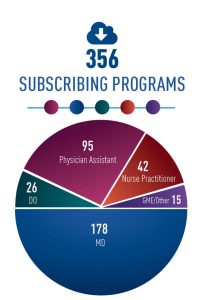 YEAR IN REVIEW:
IMPROVING LEARNING EXPERIENCES THROUGH MEANINGFUL INTEGRATION & EXPANDED CONTENT
In 2021, Aquifer expanded our library of integrated teaching and learning tools and increased our impact with many more programs choosing to access our full library of content. Our educator network and faculty engagement opportunities significantly increased, all while maintaining our current cases to ensure that we provide the most up-to-date clinical learning content available to medical and health professions students.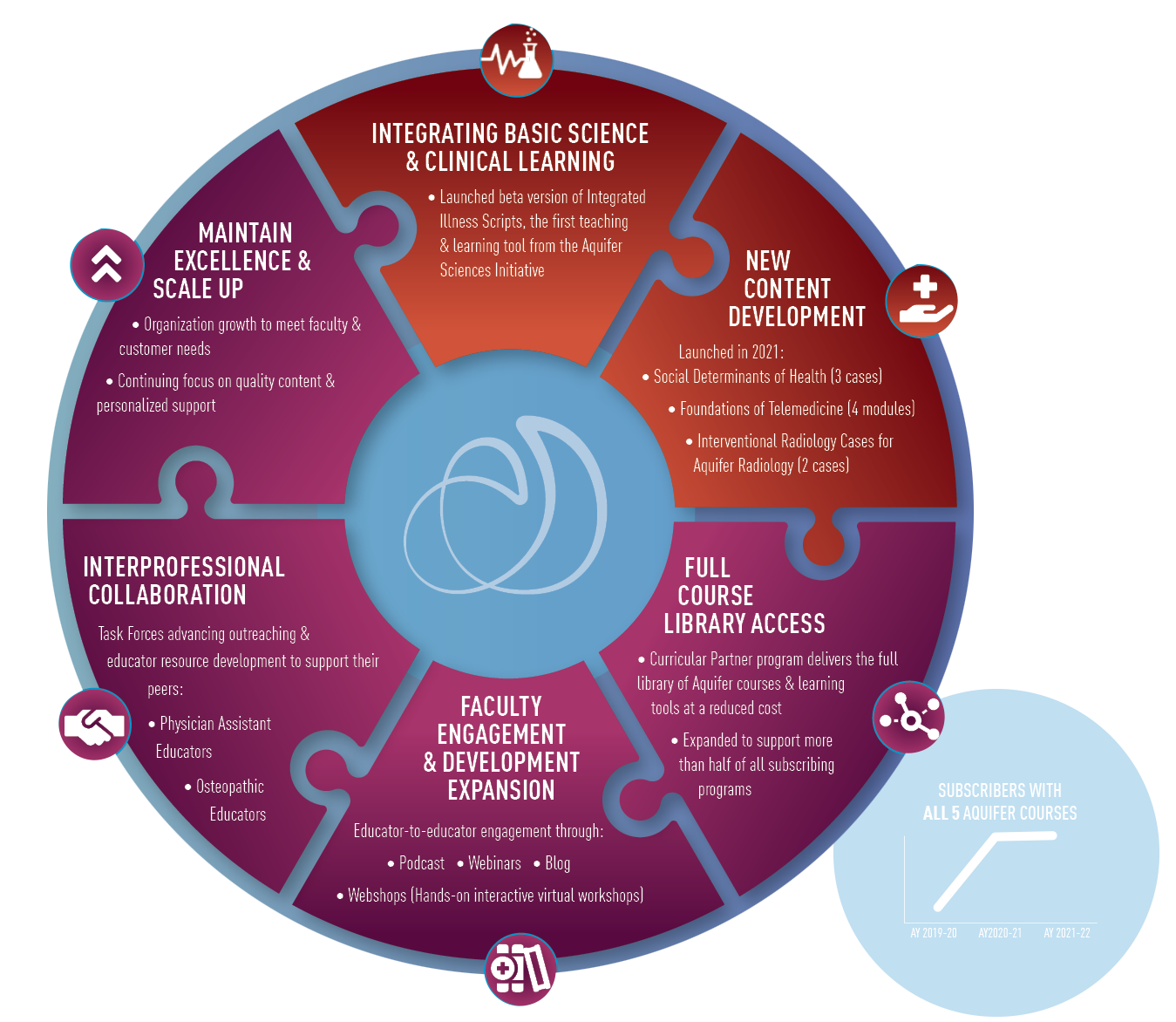 LOOKING AHEAD:
LAYING THE FOUNDATIONS FOR MORE EMPOWERED STUDENT LEARNING
Aquifer's non-profit mission remains focused on collaboratively developed virtual learning tools empowering learners to become the clinicians they aspire to be. Each of our key initiatives is part of a comprehensive plan to expand students' power to drive their own learning and develop clinical excellence.
UPDATES ON KEY INITIATIVES IN DEVELOPMENT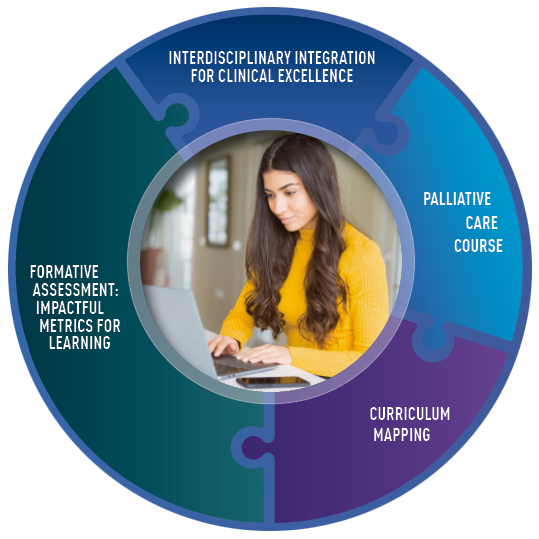 Formative Assessment: Impactful Metrics for Learning
Aquifer's new formative assessments, available for pilot testing in 2022 to Curricular Partner Programs, will deliver a new tool for test-enhanced learning and distributed practice to build more efficient, effective learners. Students will be provided granular feedback on their performance, calibrated to accuracy and confidence, with suggestions for building a self-directed study plan to address knowledge gaps. Faculty reporting will identify curricular gaps and at-risk students to support coaching and structured remediation.
Interdisciplinary Integration to Support Clinical Excellence
We are actively developing learning design models to integrate basic science and clinical excellence content directly into Aquifer cases so that students experience authentic delivery of content in clinical context to enhance their clinical reasoning.
Palliative care course
Work on our Principles and Practice of Excellence in Primary Palliative Care course is well underway, thanks to grant support from the Arthur Vining Davis Foundations. An initial set of cases will be available to Aquifer Curricular Partners in 2022. We are also exploring additional disciplines and topic areas for future content expansion.
Curriculum Mapping
Work is underway to build a comprehensive model for mapping national learning objectives, Aquifer case learning objectives and teaching points, assessment items, and sciences content. Mapping these connections will enable improved searchability, create explicit links to national curricula, and create an infrastructure for future enhancements.
EDUCATORS CONSORTIUM
AQUIFER'S DYNAMIC COMMUNITY OF INTERDISCIPLINARY EDUCATORS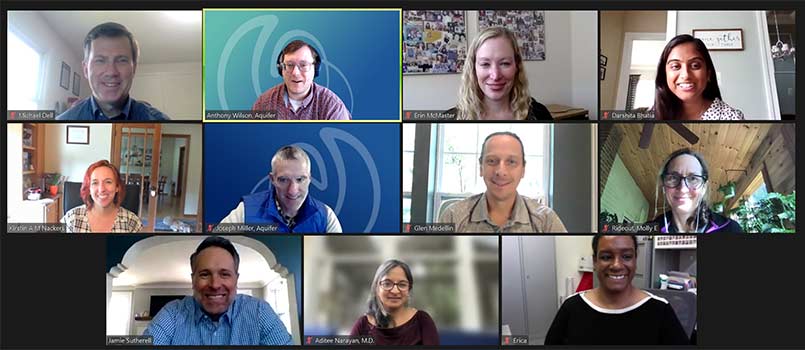 The Aquifer Educators Consortium is a group of leading educators who come together from across disciplines to create innovative teaching and learning tools, build a cohesive pedagogy, and constantly update Aquifer's trusted cases and assessments.
2020-21 CONSORTIUM: JULY 1, 2020 – June 30, 2021
Academic Directors
David Anthony
Valerie Lang
Glen Medellin
DIAGNOSTIC
EXCELLENCE
Andrew Olson
Kathleen Lane
Juan Lessing
FAMILY MEDICINE
Katie Margo
Elizabeth Brown
Jason Chao
Tomoko Sairenji
Martha Seagrave
Augustine Sohn
John B. Waits
Jordan White
GERIATRICS
Rosanne Leipzig
Amit Shah
Kathryn Denson
Lauren Gleason
Becky Powers
Ravishankar
Ramaswamy
Mandi Sehgal
Quratulain Syed
Andrea Wershof Schwartz
Erin Zahradnik
HIGH VALUE CARE
Heather Harrell
Jimmy Beck
Amit Pahwa
Haritha Pavuluri
INTERNAL MEDICINE
Kirk Bronander
Irene Alexandraki
Amy Blatt
Lisa Calvo
Shobhina Chheda
Monica Edwards
Kendall Novoa-Takara
Homan Wai
Joseph Wayne
Jennifer Wright
Pediatrics
Michael Dell
Kirsten Nackers
Darshita Bhatia
Lavjay Butani
Melissa Held
Erin McMaster
Aditee Narayan
Molly Rideout
Jamie Sutherell
Erica Taylor
RADIOLOGY
Jeffery Hogg
Siddartha Gaddamanugu
Pauline Germaine
Jennifer Koay White
Melissa Manzer
Matthew Miller
SCIENCES
Amy Wilson-Delfosse
Robin English
Tracy Fulton
David Harris
Khiet Ngo
James Nixon
Leah Sheridan
Interdisicplinary Teaching & Learning Leads
Barbara Capozzi
Erik Langenau
Cynthia Lord
Student Engagement Group
Jennifer Bierman
Kathy Chretien
2020-2021 ACADEMIC
CONTRIBUTORS
JULY 1, 2020 - JUNE 30, 2021
The Aquifer Educators Consortium is supported by a talented group of educators and students contributing to content and assessment review, developing new projects, presenting on webinars, and providing key feedback.

Irsk Anderson
Dolapo Babalola
Franklyn Babb
Dhiraj Baruah
Chris Bergsman
Bruce Britton
Bekah Burns
Lavjay Butani
Rebecca Cantone
Catherine Coe
Sara Curtis
Marie Dawlett
Lauren Demosthenes
Steven Denson
Deborah DeWaay
Gabrina Dixon
Suzanne Eidson-Ton
Suzanne Friedman
Rahul Garg
Siddhartha Gautama
Brian Good
Shakun Gupta
William Hay
Marieka Helou
Allison Holley
Elizabeth Kaplan
David Kriegel
Brian Kwan
Amalia Landa-Galindez
Stephanie Le
Kristen Lewis
Jenelle Little
Will Moore
Ronda Mourad
Holli Neiman-Hart
Amimi Osayande
Christine Osborne
Laura Perry
Nila Radhakrishnan
Temple Ratcliffe
Alexis Reedy-Cooper
Anuja Riles
Mary Rubino
Cheryl Sadowski
Meenu Singh
Lacy Smith
David Smith
Soumya Sridhar
Marjorie Stein
Sarah Steinkruger
Sarah Stumbar
Heather Taylor
Sarah Tiggelaar
Chandler Todd
Meghan Train
Laura Triantafylidis
Jamie Lee Twist Schroeder
Anne Vanderbilt
Camille Vaughan
Adam Weinstein
Andy Wright
Mindy Yang
Erin Zahradnik
Assessment Authors
Jonathan Appelbaum
Nancy Baker
Angela Beckert
David Beckmer-Weidman
Mariquita Belen
Darshita Bhatia
Latasha Bogues
Rebecca Carter
Stephanie Conrad
Amy Creel
Vanessa Curtis
Anthony Dambro
Katie Denson
Shadi Dowlatshahi
Beth Emrick
Christopher Fallert
Sid Gaddamanugu
Roderick Go
Eric Goodman
Syed Hashmi
Emily Haury
Jeffery Hogg
Miranda Huffman
Jennifer Kohr
Peter Koopman
Conrad Krawiec
Jessica Kurian
Valerie Lang
Samantha Lau
Kyra Len
Mark Lisle
James Lyons
Catherine Maldjian
Brian Markovich
Dana Mazuru
Patricia Mcburney
Grace Mitchell
Kristel Montano
Stephen Moses
Ryan Nall
Holli Neiman-Hart
Ashwini Niranjan-Azadi
Maureen Novak
Cara O'Brien
Melissa Olken
Chavon Onumah
Melissa Osborn Jenkins
Amit Pahwa
Jennifer Pascoe
Prashant Patel
Ayla Pelleg
Parvathi Perumareddi
Christopher Peters
Melissa Plesac
Ravishankar
Ramaswamy
Deborah Rana
Zayd Razouki
Jennifer Readlynn
Michael Rotblatt
Marion Scoggins
Abdul Tarabishy
Jennifer Tingo
Julie Topsis
Leigh Townes Jr.
Kristi VanDerKolk
Jennifer Wang
Velyn Wu
Anna Zajicek
Kathryn Zamora
Physician Assistant
Task Force
Petar Breitinger
Kathleen Ehrhardt
Tanya Fernandez
Kindred Harland-Shulgin
Darcie Larimore-Arenas
Jensen Lewis
Cynthia Lord
Shannon North
Denise Ogden
Elisabeth Shell
Jana Villanueva
Elias Villarreal
Anne Walsh
Michele Zawora
Osteopathic Educator Task Force
Lauren Azevedo
Barbara Capozzi
Victoria Chang
David Garza
Lauren Griffin
Farzanna Haffizulla
Erik Langenau
Townes Leigh
J'Aimee Lippert
Robert Lloyd
Catherine Macyko
Michael Olek
Gregory Pecchia
Nicole Pena
Kim Pfotenhauer
Suzanne Rogers
Sciences Curriculum Editorial Board
Judy Aronson
Jon Bernstein
Youngjin Cho
Susan Cline
Bonny Dickinson
Anna Edmonson
Eve Gallman
Kerstin Honer zu Bentrup
Kathy Hyland
Julie Kerry
Janet Lindsley
Virginia Lyons
John Szarek
Jennifer Yoest
Sciences Clinical
Education Consultants
Feroza Daroowalla
Joanna Drowos
Jim Furgerson
Kevin Grimes
Ronda Mourad
Wei Xiong
Sciences Discipline Editors
Maureen Basha
Rob Carroll
Kurt Gilliland
Nancy Hayes
Kristen Larson
Rebecca Lufler
Joy Sturtevant
Karen Symes
Student Advisory Group
Jane-Frances Aruma
Alyssa Brown
Jacob Deem
Sean Evans
Emma Gargus
Jessica Gogan
Noor Kawmi
Sharon Lam
Logan Lawson
Amy Matia
Varun Mehta
Swati Patel
Carson Powell
Ayman Youssef
Webinar, Blog &
Podcast Contributors
Gauri Agarwal
Laura Avery
Dolapo Babalola
Jimmy Beck
Jennifer Bierman
Jaime Bowman
Lynn Buckvar Keltz
Esther Dasari
Michael Dell
Dawn Elise DeWitt
Joanna L. Drowos
Robin English
Leslie Fall
Tracy Fulton
Pauline Germaine
Kindred Harland Shulgin
Heather Harrell
David Harris
Melissa Held
Jeffery Hogg
Mary Ann Hopkins
Sara Kraus
Val Lang
Samantha Lau
Jensen Lewis
Cindy Lord
Jeffrey Manko
Melissa Manzer
Traci Marquis-Eydman
Rose Milando
Matthew Miller
Rachel Miller
Ronda Mourad
Craig Myers
Wafa Nabi
Kirstin Nackers
Khiet Ngo
James Nixon
Ann O'Rourke
Andrew Olson
Amit Pahwa
Andrew Parsons
Haritha Pavuluri
Natalia Perez
Ravi Ramaswamy
Rishindra Reddy
Sravanthi Reddy
Thomas Riles
Karla Robinson
Andrea Schwartz
Amit Shah
Leah Sheridan
Sherilyn Smith
Lonika Sood
Elizabeth Stuart
Georgia Vasilakis
Amy Wilson-Delfosse
Albert Yurvati
Michele Zawora
2020-2021 AQUIFER BOARD OF DIRECTORS
Margaret Mulley, CPA, Chair
Stephen Lawe, Treasurer
K. Blake Darcy
Jan Jones-Schenk, DHSC, RN, NE-BC
Bruce Z. Morgenstern, MD
Charles G. Prober, MD
Leslie Fall, MD
CEO & Ex-Officio Board Member