July 16, 2020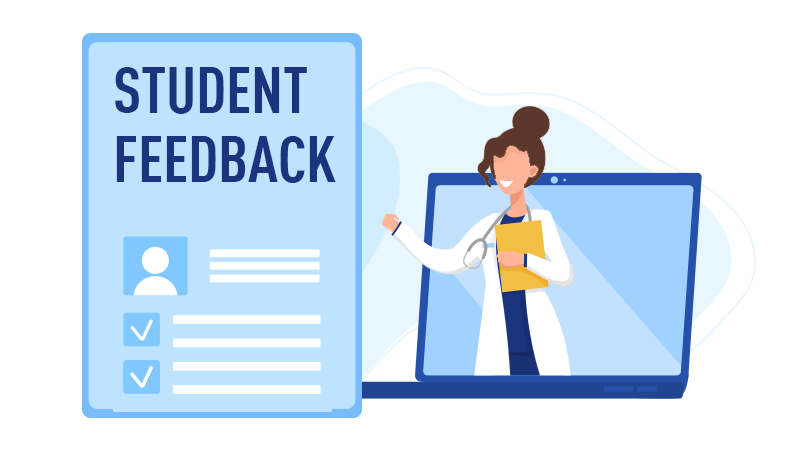 By: Sherilyn Smith, MD |  Clinical Skills Learning Specialist  |  University of Washington |  Aquifer Chief Academic Officer
---
Providing meaningful and authentic formative feedback or assessment to students is time-consuming and may feel like busywork to students if it is not linked to other educational activities.
In many Aquifer Family Medicine, Internal Medicine, and Pediatrics cases, students are asked to write out a one to three sentence summary statement that mimics the communication skills they need on rounds, calling consults, and writing patient progress notes. Writing a summary statement requires the synthesis of complex patient information, pushing the student to determine what pieces of information are important to create a differential diagnosis. This process acts as a surrogate for clinical reasoning skills, and a review of this work can be a window into the development of these skills and a useful tool for discussion and delivery of formative feedback.
Aquifer's student and case reports provide a side by side comparison of student work and "expert" summary statements for easy evaluation. Periodically assessing your student's ability to succinctly summarize the case provides two types of information: 
Are they interacting in a meaningful way with the material? 

Are they developing critical thinking and reporting skills during their clinical training?
When providing feedback to students about their work, it is important to scaffold the "next steps". This published rubric¹ is a useful guide for faculty in providing targeted help to students. Some of the key points in this framework include evaluating the student's ability to:
Include accurate information and not include misleading information. 

Facilitate understanding of the primary problem and appropriately narrow the differential diagnosis through the inclusion of pertinent key features. (The aim is to frame the understanding of the primary problem rather than to report all information indiscriminately.) 

Express key findings in qualified medical terminology (e.g., heart rate of 180 beats/minute is tachycardia); synthesize details into unifying medical concepts (e.g., retractions + hypoxia + wheezing = respiratory distress). 

Use qualitative terms that are more abstract than patient's signs; these are often binary in nature (e.g., acute vs. chronic; constant vs. intermittent). 
Implementing the use of summary statements for formative assessment or feedback in your course is relatively straightforward. Here are a few suggestions based on my own experience at the University of Washington:
Make sure your students know that you will be providing feedback (don't surprise them!).

Choose 1-2 summary statements to review per student per course to get an idea about how they are progressing. 

Give one piece of targeted feedback about how to improve using the rubric above.  
Limiting the number of statements and focusing the scope of your evaluation will keep you from being overwhelmed by the amount of feedback you are providing and keep your students engaged and moving forward. Students generally appreciate the targeted feedback (especially if you call out that this will help their presentations and write-ups!).
Smith S, Kogan JR, Berman NB, Dell MS, Brock DM, Robins LS. The Development and Preliminary Validation of a Rubric to Assess Medical Students' Written Summary Statements in Virtual Patient Cases. Acad Med. 2016;91(1):94-100.
Assessment