July 2, 2018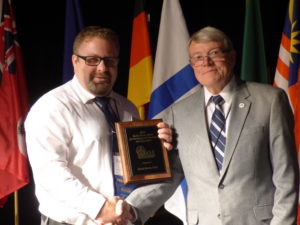 Aquifer is pleased to announce that David Harris, PhD, received the Early Career Award for Excellence in Teaching and Innovation at the 2018 International Association of Medical Science Educators (IAMSE) Annual Meeting in early June. Dr. Harris is a science lead on the Aquifer Sciences Leadership Team.
The IAMSE Early Career Award for Excellence in Teaching and Innovation honors an IAMSE member who has made significant innovations to the field in a short time toward teaching, learning, and assessment. The award is given to candidates with a record of innovation in teaching and engagement within IAMSE. The award winner is chosen by the Educational Scholarship Committee and approved by the IAMSE Board of Directors.
Dr. Harris is an Associate Professor of Physiology at the University of Central Florida. He received his PhD in physiology from the Temple University School of Medicine and later served as the course director of medical physiology at Drexel University College of Medicine. After moving to the University of Central Florida, Dr. Harris developed his scholarly interests in active learning pedagogies and the use of high fidelity patient simulation with pre-clerkship medical students. In addition to his work with Aquifer Sciences, he serves on committees of the American Physiology Society and is an Associate Editor of Advances. He is the winner of numerous awards, including the APS New Investigator Award, the APS Teaching Career Enhancement Award, and the UCF Pre-Clinical Innovative Teaching Award.
David Harris joined the Aquifer Sciences Initiative at its inception, co-leading the development efforts for Physiology concepts and learning objectives. In 2017, David joined the Initiative's leadership team and was instrumental in re-organizing the project's focus around body systems and seeing the Physiology concepts to completion. The success of this critical component of the curriculum could not have been achieved without David's strong leadership of this student-driven team. "All of us at Aquifer, and especially the Aquifer Sciences team, were thrilled to see David honored at IAMSE this year. He is an integral part of this project and a talented educator. We look forward continuing to work closely with David as the next phase of the project moves ahead," said Leslie Fall, Aquifer Executive Director and Aquifer Sciences Design/Faulty Development Lead.
---
Aquifer (formerly MedU) is a thriving, collaborative community of healthcare education leaders deeply committed to driving innovation in teaching and learning. The Aquifer Consortium brings together more than 200 healthcare educators across disciplines to collaborate, innovate, and make advances in health professions education. For educators and healthcare providers, participation in the Consortium offers a unique cross-disciplinary peer community and an exciting opportunity for academic scholarship and advancement.
Events