September 11, 2018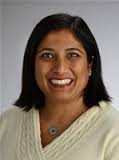 Aquifer is proud to announce that Dr. Mandi Sehgal, Teaching and Learning Lead for Aquifer Geriatrics, was elected to serve as the Teachers' Section Chair for the American Geriatrics Society (AGS). The Teachers' Section represents a group of interprofessional geriatrics educators who come together to encourage networking and collaboration. The section meets at the AGS Annual Scientific Meeting each year.
"I am excited and humbled by this honor," Dr. Sehgal said. "The chair has the unique and exciting opportunity to lead wonderful colleagues and influence strategy for education sessions at the annual meeting," she said. "My main goal during my term is to encourage and foster a sense of community among geriatric clinician educators through the use of online and social media."
Dr. Mandi Sehgal is a Board Certified Family Medicine Physician and Geriatrician. She is an Associate Professor at Florida Atlantic University Charles E. Schmidt College of Medicine. Her roles at the College of Medicine include directing the longitudinal geriatrics curriculum thread throughout all four years of medical school, co-directing the clinical clerkship in geriatrics and palliative care, and serving as the faculty advisor to the FAU chapter of the American Geriatrics Society Geriatric Medicine Student Interest Group.
Dr. Sehgal has an academic passion for designing, implementing and evaluating geriatrics-focused educational curriculum for all learners. She is an active member of the Aquifer Geriatrics (formerly web-GEM's) course board, currently serving as Teaching and Learning Lead, and a case co-author.
All of us at Aquifer congratulate Mandi this important national position.
---
Aquifer (formerly MedU) is a thriving, collaborative community of healthcare education leaders deeply committed to driving innovation in teaching and learning. The Aquifer Consortium brings together more than 200 healthcare educators across disciplines to collaborate, innovate, and make advances in health professions education. For educators and healthcare providers, participation in the Consortium offers a unique cross-disciplinary peer community and an exciting opportunity for academic scholarship and advancement.
In the news