March 17, 2022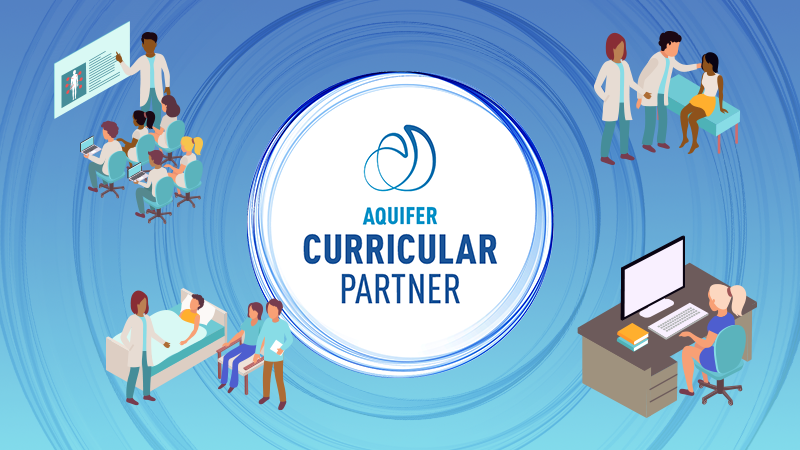 As a non-profit organization, Aquifer is committed to supporting faculty and students through broad access to our trusted content. To that end, we are proud to offer the Curricular Partner program to enable programs to take full advantage of the power of our complete content library at a deep discount. We're excited to share that for the 2022-23 subscription year (July 1, 2022 through June 30, 2023), Aquifer is offering enhanced benefits and exclusive access to new teaching and learning tools to help optimize Aquifer use across your entire curriculum.
What is a Curricular Partner?
In short, a Curricular Partner subscribes (at a discounted rate) to all five Aquifer signature courses (Family Medicine, Geriatrics, Internal Medicine, Pediatrics, and Radiology), and enjoys additional benefits and resources.
To understand the full scope of the program and the new benefits for the coming year, read on…
Key Benefits
Full Access to Aquifer's Content
Providing Full Curricular Support
Curricular partners appreciate having all of Aquifer's trusted content at the ready to use as they need. Although Aquifer cases are most frequently used during clerkships or clinical rotations, programs across the country are using cases to bring clinical context to early learners, enhancing didactics with engaging flipped classroom sessions, building a longitudinal integrated clerkship, or creating versatile virtual rotations or electives to meet the needs of advanced clinical students. The easy-to-use searchable content library allows curricular partners to search across 180 Aquifer cases plus 40+ Integrated Illness Scripts and quickly assemble them into a custom course to assign to a specific set of students with personalized instructions. "We know that every school is totally different and it's a matter of finding exactly what you need to be successful for yourself and your learners. So when I think about the Curricular Partner program, it's all about taking full advantage of the flexibility that comes with the full scope of Aquifer's content. Being a Curricular Partner allows you to choose what is best for you, and not be limited by certain specialties," said Sherilyn Smith, MD, Aquifer Chief Academic Officer and Clinical Learning Specialist at the University of Washington. 
"Being a curricular partner and having access to all of Aquifer's rich content benefits all the stakeholders at our institutions. It provides a truly standardized curriculum delivery across our sites and allows us to utilize cases and learning tools across all of our courses. Full access to Aquifer really gives you the opportunity to be as flexible and creative as possible."

Barbara Capozzi, DO, Clinical Dean at Touro College of Osteopathic Medicine Harlem and Aquifer Osteopathic Task Force Lead
With the full breadth of Aquifer cases and Integrated Illness Scripts at your fingertips, faculty and administrators can easily fill gaps, standardize clinical experiences, and find new ways to enhance learning. "At the beginning of the pandemic, engaging the Aquifer signature courses allowed us to augment our clinical year curriculum with didactic content. As conditions stabilized for those sites, we have continued to integrate Aquifer cases as an ongoing part of our clinical program. We are still exploring ways to integrate cases across the didactic year, and find the courses to be of high quality and well-aligned to our learning outcomes," said Rachel Porter, PhD, Senior Education Strategist at Duke Physician Assistant Program. We've heard from many faculty that knowing they have Aquifer's trusted, comprehensive content available provides peace of mind that they are well prepared to address future clinical learning challenges.
Exclusive Access to New Tools
Our Curricular Partners gain exclusive access to Aquifer's learning tools and pilot programs.
"Giving our Curricular Partners early access to our new tools and pilot program is like nothing we've ever done before. We're really inviting these programs into our innovation space and counting on them to provide feedback to help us optimize these new learning tools before we extend availability across medical and health professions education. We're so excited to bring them into the fold and truly partner with them, working together to build what's coming next"

Leslie Fall, MD, Aquifer Chief Executive Officer
Aquifer Calibrate Pilot Application Process
Aquifer Calibrate is an innovative and evidence-based formative assessment system, designed to support self-directed learning. Aquifer Calibrate combines the concepts of test-enhanced learning, progress testing, and distributed practice to help build more efficient, effective learners. Aquifer Calibrate will help students calibrate their accuracy and certainty on each topic, and provide coaching tips and links back to teaching points and cases.  For faculty, Aquifer Calibrate will identify curricular gaps and at-risk students who may need coaching or remediation.
The Aquifer Calibrate pilot is expected to begin in the fall of 2022, with applications opening in the late Spring for MD & DO Curricular Partner programs. We anticipate opening the pilot to physician assistant and nurse practitioner programs in late 2022 or early 2023.
Participating in the Aquifer Calibrate pilot will provide the unique opportunity to become a true partner in Aquifer's innovation process. As we prepare to debut this unique, transformative new assessment system, we will be looking for faculty and administrator partners to conduct the assessments with their students and provide early feedback to inform optimizations. Pilot schools will also have access to faculty development sessions on coaching as part of this program.
Palliative Care Courses
Our initial set of seven palliative care cases will debut an exciting new, shorter case structure and will be available to Curricular Partners on July 1.
Aquifer—supported by the Arthur Vining Davis Foundations—has advanced the development of a national, standardized curriculum and online course that addresses critical gaps in palliative care learning across undergraduate medical and health professions education. Aquifer Primary Palliative Care case features, informed by stakeholder feedback, will include videos modeling communication, authentic clinical experiences, opportunities to reflect on personal emotions, and expert advice on common dilemmas and avoiding pitfalls. The cases will serve to better equip learners with the knowledge, skills, and attitudes needed to provide patient-centered care to their communities.
Integrated Illness Scripts – Expanded Set
Our library of Integrated Illness Scripts, designed to promote cognitive integration and provide a framework to link basic science and clinical knowledge, will be expanding to 40+ scripts on July 1 of this year. Curricular Partners will continue to have the ability to mix and match scripts with other Aquifer content in custom courses. To help faculty get started using scripts in the classroom or clinic, we've developed ready-to-use activities and fully-developed teaching sessions that are flexible, and make it easy to help your students make connections between basic science and clinical practice.
Personalized Curricular Planning and Peer Consults
Also new this year, Aquifer will connect your team with a personal meeting with our curriculum integration specialists. Our team is truly here to help, and we are dedicated to ensuring that you are making the most of Aquifer across your entire program. Our team of experts are ready to troubleshoot your content challenges, highlight best practices and suggested strategies, or connect you directly with a peer consultation with one of our medical educators once we understand your needs. We will also continue offering peer consultations by request, connecting you with members of the Aquifer Educators Consortium, experienced educators ready to share their experiences and expertise.
Features Faculty Know & Trust
In addition to the exciting features described above, Curricular Partners will continue to have access to the tools, assessments, platform features, and support that all Aquifer subscribers know and trust.
Additional features include:
---
Learn More
For more details:
Ready to Get Started?
If you are already an Aquifer subscriber and would like to learn more about our Curricular Partner program, please contact our team of expert Relationship Managers at subscriptions@aquifer.org. 
If you are new to Aquifer, you can get started by requesting a quote.
Watch the Webinar
Short on time? Use the table of contents to jump to the section you need.
Table of Contents:
0:00 – Welcome

3:15 – Introduction to Aquifer

4:15 – What is a Curricular Partner?
4:48 – What's included in your Curricular Partner Subscription
9:00 – Power of the Content Library
11:20 – Content Library Example: Pre-Clerkship Systems Based Course
17:20 – Content Library Example: Core Clerkship
20:40 – Content Library Example: Longitudinal Integrated Clerkship
24:45 – Content Library Example: Advanced Elective
27:12 – Hidden Gems
31:20 – Exclusive Access to New Products
31:31 – Aquifer Calibrate
34:20 – Aquifer Palliative Care Course
36:45 – Aquifer Integrated Illness Scripts
39:27 – Additional Resources
44:00 – Q&A
58:00 – Next Steps
Exploring Our Content, Curriculum Planning, Successful Strategies