November 15, 2019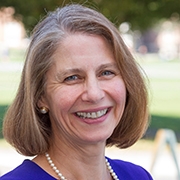 Chief Executive Officer
Leslie Fall, MD is the Chief Executive Officer of Aquifer. Since the organization's inception in 2006, Dr. Fall has been at the helm, working to advance Aquifer's mission and innovate in health care education. Dr. Fall was the Principal Investigator on the federal grants that developed Aquifer Pediatrics, the first course produced and distributed by Aquifer and that served as the foundation for the organization.
Dr. Fall is also an Adjunct Professor of Pediatrics at the Geisel School of Medicine at Dartmouth and practiced pediatric hospital medicine for twenty years until assuming her leadership role full time at Aquifer in 2015. A Dartmouth medical school graduate herself, she has completed a medical education fellowship at Michigan State University and the Executive Leadership in Academic Medicine (ELAM) program for women. Dr. Fall is a former pediatric clerkship and residency program director, Associate Dean for Faculty Development, and an inaugural member of Geisel's Academy of Master Educators. While at Dartmouth she served on the medical school's appointments, promotion and tenure committee for four years, and as the chair in her final year on the committee.
Dr. Fall has been both locally and nationally involved in the continuum of medical student, resident and faculty education throughout her career, particularly through the lens of expertise development. More recently she has turned her attention to transforming the teaching and learning of basic sciences in health professions education. Her work has resulted in numerous invited national workshops, visiting professorships, awards and publications.
Dr. Fall lives in Hanover, NH with her husband and has three children. She is an avid reader who enjoys cooking, running, and gardening.
Category:
Board of Directors