November 11, 2021

Aquifer congratulates Tracy Fulton, PhD, and Valerie Lang, MD, MHPE, on being named recipients of the prestigious 2021 Alpha Omega Alpha Robert J. Glaser Distinguished Teacher Award from the Association of American Medical Colleges (AAMC). This award, established in 1988 by the Alpha Omega Alpha medical honor society, is given to faculty members who have distinguished themselves in medical student education. Both of these talented educators are members of the Aquifer Educators Consortium, and their dedication to teaching the next generation of medical professionals is remarkable.
Tracy Fulton, Ph.D.
Dr. Tracy Fulton, Sciences Lead for Aquifer Sciences, is a professor of Biochemistry and Biophysics at the University of California, San Francisco, where she is also the Professional School Director for Biochemistry. She has been awarded this recognition for her work implementing and studying the Pathways of Human Metabolism map, a visual tool for health professions students that promotes deep learning and application of classroom concepts to clinical problems.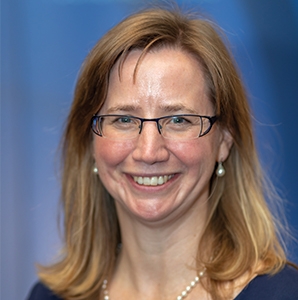 Valerie Lang, MD, MHPE
Dr. Valerie Lang, Academic Director of the Aquifer Clinical Decision Making Exam, has been named a recipient of this award for her work in curriculum development and teaching acumen. An Associate Professor at the University of Rochester School of Medicine and Dentistry, Dr. Lang is the Director of Meliora in Medicine, as well as the Director of Faculty Development, Hospital Medicine Division, and the Senior Associate Division Chief, Hospital Medicine.
---
Aquifer is a thriving, collaborative community of healthcare education leaders deeply committed to driving innovation in teaching and learning. The Aquifer Educators Consortium brings together more than 70 healthcare educators across disciplines to collaborate, innovate, and make advances in health professions education. For educators and healthcare providers, participation in the Consortium offers a unique cross-disciplinary peer community and an exciting opportunity for academic scholarship and advancement.
In the news