April 27, 2020
By:
Andrew S. Parsons, MD, MPH | Assistant Professor | University of Virginia School of Medicine
Glenn Moulder, MD | Assistant Professor  | University of Virginia School of Medicine
---
It may seem unusual to design and implement a medical student course focused on high-value care in the middle of a pandemic. However, we are witnessing financial strains on our healthcare system, partly driven by rampant waste and inefficiency1, that have a visible impact on patient care2. In addition, the importance of pre-test probability, care setting, and test characteristics such as sensitivity and specificity are on full display as our nation struggles to implement an effective testing strategy for COVID-193. As third and fourth-year medical students were pulled from clinical duties at the urging of the Association of American Medical Colleges (AAMC)4, educators at the University of Virginia School of Medicine developed a two-week online course to meet the ongoing educational needs5 of over 300 students.
Our two-week course introduced students to an integrative, comprehensive model of high-value care applicable to future clinical practice. The course spanned the breadth of high-value care: a 30,000-foot view of value-based healthcare policy, the role of health systems science, and the bedside clinician's practice of high-value decision-making. Through online modules (including Aquifer High Value Care), book readings6, journal articles, and collaborative discussions, the course was organized into daily themes: health systems science, value-based healthcare, quality and safety, cost, waste, diagnostic and management reasoning, prevention, high-value reproductive health, high-value prescribing, and end-of-life care. Self-directed learning was augmented by daily debrief sessions on Zoom joined by students and faculty from Johns Hopkins School of Medicine simultaneously taking the same course.
Clinical cases were provided by Aquifer and the American Medical Association (AMA)8. Aquifer High Value Care9 cases are offered free of charge to all teachers and learners.  The Aquifer High Value Care course consists of cross-discipline, case-based modules focused on the fundamentals of value in healthcare10. The modules include short interactive virtual patient cases, brief instructional videos, key teaching points, and embedded links so that students can apply principles from the high-value care modules to other cases.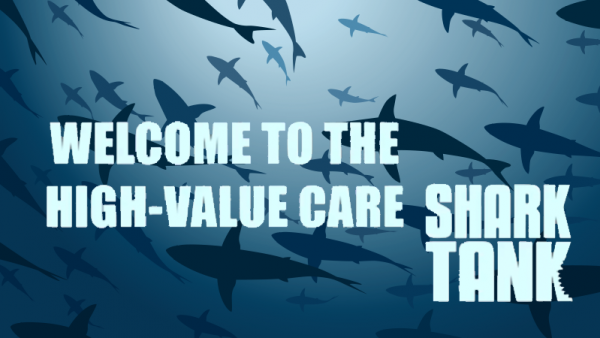 To end the course, students completed an innovative project in pre-assigned small groups. Each group formulated a two-page proposal describing a novel method to decrease the overutilization of a non-beneficial service to improve the value of healthcare in the United States. The top five proposals were selected from each class of students and presented on the final day of the course in a multi-institution High-Value Care Shark Tank11. Faculty experts judged the presentations on six criteria: summarized background to the problem including references, well-delineated outcomes, creativity, feasibility, clear presentation, and whether all group members spoke. Winning proposals were submitted to Medical Center leadership for review and consideration.
The educational void created by the COVID-19 pandemic led to an innovative medical school curriculum consistent with calls to promote High-Value Care as a core competency early in medical education5. Our students responded with an impressive level of engagement and created quality proposals to improve the value of healthcare. We hope our course serves as a model to other institutions and are happy to share the course details to encourage more widespread use.
---
Editor's Note: Aquifer is proud to share this innovative teaching method, complete with the full ready-to-use curriculum, complete with learning objectives, assignments, and schedule: From Health Systems to the Bedside: High-Value Care 101. For Aquifer subscribers, this curriculum document is also available via your Aquifer account in Educator Resources/Aquifer High Value Care. The Aquifer High Value Care Course Board has reviewed and endorsed this approach to teaching.
Medicine I of.

Best Care at Lower Cost: The Path to Continuously Learning Health Care in America

.; 2012. doi:10.17226/13444

HealthLeaders. COVID-19 Outbreak Threatens Health Systems With New Financial Challenges. https://www.healthleadersmedia.com/finance/covid-19-outbreak-threatens-health-systems-new-financial-challenges. Accessed April 18, 2020.

Fink S, Baker M. 'It's Just Everywhere Already': How Delays in Testing Set Back the U.S. Coronavirus Response.

The New York Times

. https://www.nytimes.com/2020/03/10/us/coronavirus-testing-delays.html. Published March 10, 2020. Accessed April 18, 2020.

meded-April-14-Guidance-on-Medical-Students-Participation-in-Direct-Patient-Contact-Activities.pdf. https://www.aamc.org/system/files/2020-04/meded-April-14-Guidance-on-Medical-Students-Participation-in-Direct-Patient-Contact-Activities.pdf. Accessed April 18, 2020.

Erath A, Mitchell M, Salwi S, Liu Y, Sherry A. The Sooner the Better: High-Value Care Education in Medical School.

Acad Med

. 2019;94(11):1643–1645. doi:10.1097/ACM.0000000000002881

Shah N, Arora V, Moriates C.

Understanding Value Based Healthcare

. McGraw-Hill Education; 2015.

Video Conferencing, Web Conferencing, Webinars, Screen Sharing. Zoom Video. https://zoom.us/. Accessed April 18, 2020.

Online Courses and CME from the AMA Ed Hub, JAMA Network, and Steps Forward. https://edhub.ama-assn.org/. Accessed April 18, 2020.

Aquifer | Your Trusted Source for Clinical Learning – Virtual Patient Cases. Aquifer. https://aquifer.org/. Accessed April 18, 2020.

Aquifer High Value Care | Case-Based Virtual Course for Clinical Learning.

Aquifer

. https://aquifer.org/courses/high-value-care/. Accessed April 18, 2020.

Watch Shark Tank TV Show – ABC.com. ABC. https://abc.com/shows/shark-tank. Accessed April 18, 2020.
Didactic Sessions