February 22, 2018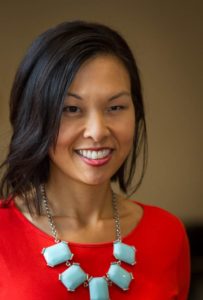 Aquifer congratulates our own Katherine Chretien, MD on the recent publication of her book; Mothers in Medicine: Career, Practice, and Life Lessons Learned. Katherine is an Aquifer Consortium member and a prominent physician and medical educator, specializing in Internal Medicine.
Dr. Katherine Chretien is the Assistant Dean for Student Affairs and an Associate Professor of Medicine at George Washington University School of Medicine & Health Sciences. She is also a hospitalist physician at the Washington DC VA Medical Center. Katherine is the recipient of the Charles H. Griffith III Educational Research Award from Clerkship Directors in Internal Medicine (CDIM) and the Women Leaders in Medicine Award from the American Medical Student Association.
Dr. Chretien began working with Aquifer in 2014, when she became an Associate Editor on the Aquifer Internal Medicine Board (formerly SIMPLE). She is currently a Student Engagement Lead for the Aquifer Teaching & Learning Group, and a co-faculty lead for Aquifer's Race and Culture pilot project. In addition to her work with the Aquifer Consortium, Katherine also serves on the editorial board of the Journal of Graduate Medical Education, and on the CDIM Council. She will be CDIM President-Elect beginning June 2018.
Mothers in Medicine: Career, Practice, and Life Lessons Learned draws from the best advice, wisdom, stories, and insights shared on the popular Mothers in Medicine blog (mothersinmedicine.com) over the last 10 years, as well as the authors' personal experiences and expertise. The Mothers in Medicine group blog began in 2008 as a way to cultivate a community of support for women in medicine. The book covers a range of themes relating to the physician-mother: career decisions, having children during training, navigating life challenges, practice issues, and work-life balance. Mothers in Medicine, now available on Amazon and Springer.com, preserves the conversational tone of the blog and provides a guide for women in medicine at all stages of their careers.
"The entire Aquifer team is proud of Katherine's tremendous achievement in completing this book," said Leslie Fall, Aquifer Executive Director and Chief Academic Officer. "She's an incredible asset to the Aquifer Consortium and a talented, dedicated physician and educator. It's impressive—but not surprising—that she has added the publication of this book to her accomplishments."
---
Aquifer (formerly MedU) is a thriving, collaborative community of healthcare education leaders deeply committed to driving innovation in teaching and learning. The Aquifer Consortium brings together more than 200 healthcare educators across disciplines to collaborate, innovate, and make advances in health professions education. For educators and healthcare providers, participation in the Consortium offers a unique cross-disciplinary peer community and an exciting opportunity for academic scholarship and advancement.
In the news