May 10, 2021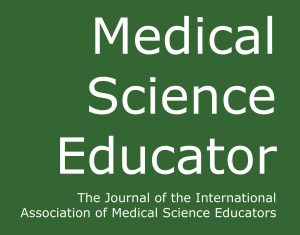 Aquifer is excited to share an important new publication in Medical Science Educator: "Thinking Slow More Quickly: Development of Integrated Illness Scripts to Support Cognitively Integrated Learning and Improve Clinical Decision-Making". The article is authored by the Aquifer Sciences Leadership Team of Leslie Fall, MD; Robin English, MD; Tracy B. Fulton, PhD; David M. Harris, PhD; Khiet Ngo, DO, MS; James Nixon, MD, MHPE; Jacqueline Hembrook-Short, MA, MS, PhD; and Amy Wilson-Delfosse, PhD.
In this publication, the authors explain the evidence-based, interdisciplinary approach to developing Integrated Illness Scripts and Mechanism of Disease Maps, and outline the benefits of using these new pedagogical tools to improve developing clinical decision-making skills. Integrated Illness Scripts are specifically designed to provide a framework for cognitive integration, creating a new mental model for learners and an opportunity for faculty collaboration. By incorporating Integrated Illness Scripts, a nationally-developed learning tool into instruction, clinical learners are able to improve both inductive and deductive reasoning skills more quickly and accurately diagnose patients. Integrated Illness Scripts were designed by a multi-institutional and multidisciplinary group of leading clinical and basic science educators.
Aquifer's Integrated Illness Scripts will be available July 1 to Aquifer Curricular Partners. Aquifer Curricular Partners are programs that subscribe to all five subscription-based Aquifer signature courses.
---
About the Medical Science Educator
This journal offers all who teach in healthcare the most current information to succeed in their task by publishing scholarly activities, opinions, and resources in medical science education. Articles focus on teaching the scientific skills which are fundamental to modern medicine and health, including basic science education, clinical teaching and the incorporation of modern education technologies. The Journal aims to provide its readers with a better understanding of teaching and learning techniques, in order to advance medical science education. The journal is an official peer-reviewed publication of the International Association of Medical Science Educators (IAMSE).
About Aquifer
Aquifer is a unique mission-driven non-profit organization dedicated to delivering the best health care education through collaborative development and research into innovative, high-impact virtual teaching and learning methods. With 15 million virtual patient cases completed since its founding in 2006, Aquifer is the leader in developing clinical learning tools for health professions education.
In the news