August 12, 2020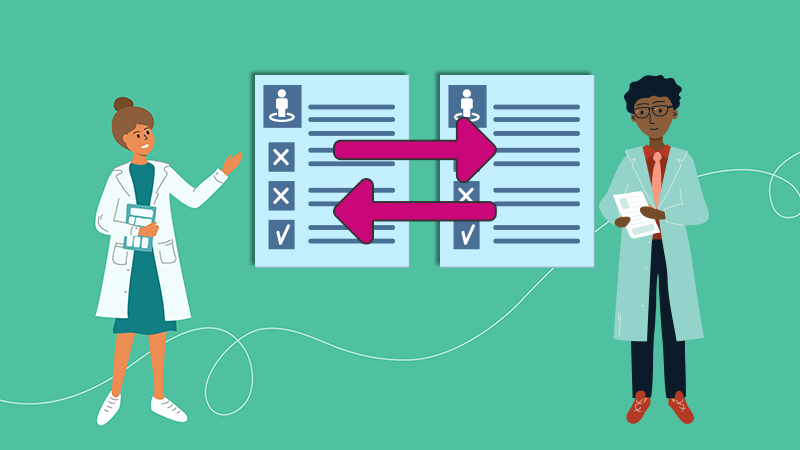 By: Jaime K. Bowman, MD, FAAFP | Director – Longitudinal Integrated Clerkship & Clinical Assistant Professor | Washington State University Elson S. Floyd College of Medicine
---
Patient care learning was suspended in the spring of 2020 to reduce the spread of the novel SARS-CoV2 pandemic.  In the Longitudinal Integrated Clerkship (LIC) at the Washington State University's Elson S. Floyd College of Medicine, students transitioned patient-based clinical learning from real patients to Aquifer cases in late March.  These more advanced level clerks required that virtual cases have increased complexity to adequately challenge them and continue building their clinical skills.  In order to meet these learning demands, Aquifer cases were introduced as written and then modified in preceptor lead discussions to encourage further clinical reasoning skill development.
The curricular backbone at WSU's College of Medicine is case-based learning1.  Students use CBL to build and compare illness scripts throughout the foundational phase of learning to acquire and reinforce clinical knowledge2.  During the clerkship phase (a LIC), students continue use of illness scripts to further discriminate presentations and findings to develop clinical reasoning3.  In particular, they use alternative history, social determinant, or physical exam findings to compare and contrast similar presentations of illness.  For example, the care of a 24-month-old patient with a maculopapular rash would yield different differential diagnoses if the child was immunized compared to an immunization schedule delay.  Given students comfort and fluency with this process, a similar approach was used when patient care learning was suspended.
Students were assigned 2 to 3 Aquifer Cases each week and given two full days to read and review all components of those cases.  They gathered in small groups of 4-6 students with one physician preceptor to present and review the cases.  Preceptors then introduced variations to the cases.  Sometimes these were different historical facts, sometimes social determinants of health, and occasionally the variation was an exam or diagnostic finding.  Students were then asked to return to their small groups, after designated independent learning time, to reconsider their prioritized differential diagnoses and discuss why the case variations altered the likely diagnostic or therapeutic approach.  
Lessons Learned & Student Feedback
Students presented their revised approaches and heavily debated why a shift in the case would change the outcome.  Not only did this reinforce the value of accurate and thorough history and exam skills, the debate often centered on the foundational science behind the clinical reasoning, "why would this illness have these features and this illness have different ones?".  The approach fostered peer to peer learning and inspired deeper dives into foundational knowledge.
A menu of possible case alterations was helpful in keeping case variations comparable between small groups and maintaining the level of complexity appropriate for the learners.  Preceptors enjoyed the debate and discussion and offered up deidentified examples to support the reasoning.  The process worked for all six core clerkship disciplines and fit the LIC's Core Entrustable Professional Activities for Entering Residency assessment framework. Returning to foundational justification proved challenging for all parties and sometimes required access to textbook references.  However, with planning and preceptor assigned pre-reading, learning was rich and feedback constructive for even more advanced learners.
Stark, R.; Kopp, V.; and Fischer, M.  (2009), Case-based learning with worked examples in complex domains:  Two experimental studies in undergraduate medical education.  Learning and Instruction, 21:  22-33.  Doi: 

https://doi.org/10.1016/j.learninstruc.2009.10.001.

Schmidt, H.G. and Rikers, R.M.J.P. (2007), How expertise develops in medicine: knowledge encapsulation and illness script formation. Medical Education, 41: 1133-1139. doi:

10.1111/j.1365-2923.2007.02915.x.

Lee, Anna; et. Al.  (2010), Using Illness Scripts to Teach Clinical Reasoning Skills to Medical Students.  Fam Med, 42:  255-261.  
Didactic Sessions