June 10, 2020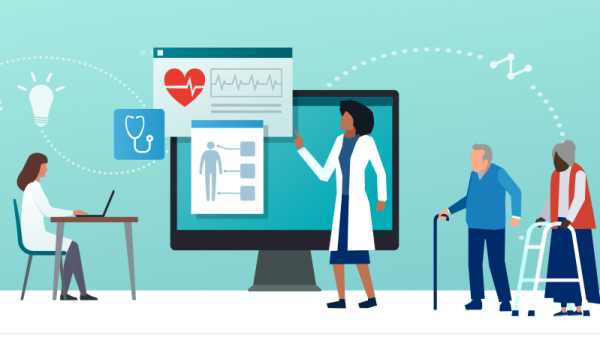 Mandi Sehgal, MD | Associate Professor of Geriatric Medicine; Director, Geriatrics and Healthy Aging Curriculum; Director, M3 Geriatrics/Palliative Care Clerkship | Florida Atlantic University Charles E. Schmidt College of Medicine | Aquifer Geriatrics Teaching & Learning Lead
---
When I began my position as Director of Florida Atlantic University's Schmidt College of Medicine Geriatrics and Healthy Aging (GHA) Curriculum Thread, one of my biggest challenges was cohesion. In this role, I was tasked with ensuring that GHA content was "threaded" throughout the entire medical school curriculum – both vertically (in each year) and horizontally (throughout all 4 years) in a connected, integrated way.
I started by aligning the existing curriculum with the AAMC Minimum Competencies in Geriatrics for Graduating Medical Students, our school's medical student competencies, and the Big 10 Principles of Geriatric Medicine (developed at Emory, modified by us at FAU). I collaborated with each course director to discuss where the GHA content lived in their course and discussed ways we might integrate GHA content in a richer way. We worked together to develop and implement a range of different pedagogies to bring our thread to life.
The Aquifer Geriatrics cases deliver the AGS National Online Curriculum1 for medical and health professions students–based on the AAMC/JAHF medical student geriatrics competencies2–making then an ideal learning tool for our students. Currently, we are using Aquifer Geriatrics cases in several different ways.
Modified Team-Based Learning Pre-clinical Curriculum
In our first year, we do a 3-hour session on dementia and delirium as part of our clinical skills curriculum. We start with a one-hour active learning didactic and then complete two one hour breakout sessions. The first breakout session guides the students through working with a standardized patient (SP) and a caregiver around the diagnosis of delirium. The other breakout session is a modified team-based learning session where students form small groups (3-4) and work through, together in the session, the Aquifer Geriatrics case on Dementia. Then we come back together to discuss each question embedded in the Aquifer case and explain the "whys" behind the answers. This teaching strategy could be used in a variety of ways for differing concepts that are highlighted by an Aquifer case.
Third-Year Clerkship Connections
As the Director for our third-year Geriatrics and Palliative Care Clerkship, I employ the Aquifer cases in a variety of ways. 
Creating Common Ground
Before the students begin their inpatient week of the clerkship, I assign three key Aquifer Geriatrics cases for students to review: Falls, Delirium, and Hazards of Hospitalization–Transitions of Care, chosen as these are highly relevant to inpatient care of older adults. By doing this, students have reviewed the same concepts and established a foundation for future learning.
Build Direct Links to Clinical Practice
Daily, on rounds, each student is asked to present 5-7 minutes on a high yield Geriatrics topic, from evaluation and management of urinary incontinence to frailty, to myself and their peers on the rotation. They are assigned the Aquifer Geriatrics case and other relevant articles that tie to their topic as background material.     
I talk with students and work to tie cases to their interests and planned future specialties. For instance, if I have a student interested in orthopedics, I'll point out that learning about falls and delirium will be important to them and their care of future patients.
From there, we branch off the learning. For example, a discussion like: "Did you know that the Orthopedic Surgeons have taken on osteoporosis as a topic of importance? They have an 'Own the Bone' program". Then we'll talk about osteoporosis and I'll direct them to the Aquifer case. Offering students the opportunity to scaffold their learning (from falls to osteoporosis to why preventing falls is important) is critical to building their learning to transfer to different clinical situations.
Lessons Learned
As we continue to experiment and adapt the ways we use the Aquifer cases, here are some of the key to consider when integrating Aquifer:
Orientation is Key
It helps to be honest about the length of time they should plan to complete each case and how long it will take to do the cases appropriately. I show students what the cases look like and point out different sections that I think are important for further learning like the 'deep dives'.
Discussion Builds Satisfaction
Students enjoy doing these cases, especially if they have follow-up discussions afterward. It has been my experience that when they are asked to do cases "just to do them" as assigned homework, the learning isn't as robust.
Provide Background for Buy-in
Clearly explaining why I am asking students to review something helps students understand the context and potential applications. I call this "Billboarding". Think of a billboard on the highway announcing that a restaurant is coming up–you know now that if you wanted to eat there, it is now "X" miles away. Identifying key learning–and how it can be applied down the line–helps students focus and absorb the case content more effectively.
Sehgal, M., Syed, Q., Callahan, K.E., Powers, B.B., Eleazer, G.P., Gleason, L.L., Ramaswamy, R., Sauvigne, K., Leipzig, R.M. and Shah, A. (2019), Introducing Aquifer Geriatrics, the American Geriatrics Society National Online Curriculum. J Am Geriatr Soc, 67: 811-817. doi:

10.1111/jgs.15813

Leipzig RM, Granville L, Simpson D, Anderson MB, Sauvigné K, Soriano RP. Keeping granny safe on July 1: a consensus on minimum geriatrics competencies for graduating medical students. Acad Med. 2009;84(5):604‐610. doi:10.1097/ACM.0b013e31819fab70
Exploring Our Content, Curriculum Planning