January 4, 2021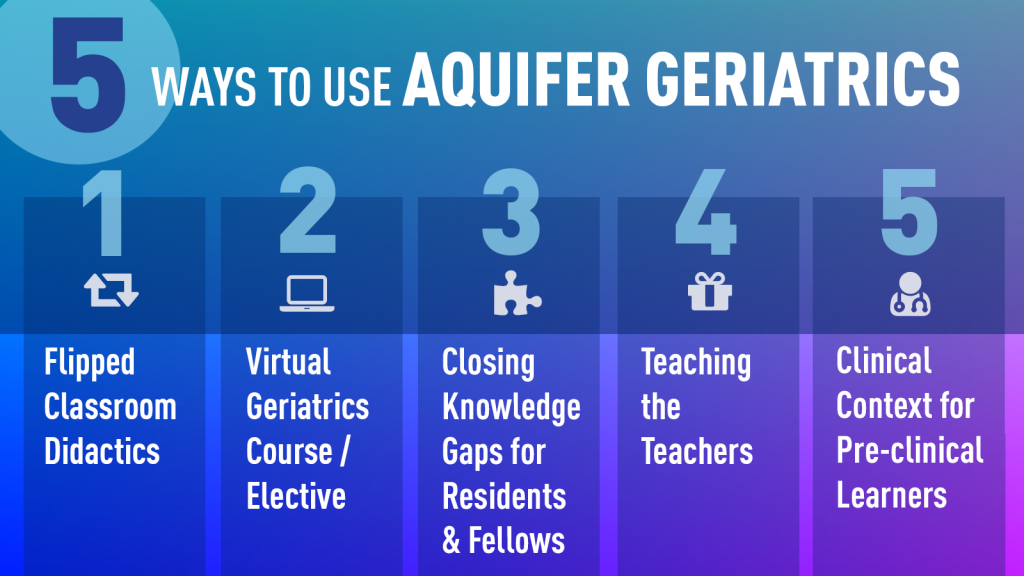 The 27 cases in Aquifer Geriatrics are designed to meet the needs of a wide range of learners and fit into many teaching modalities. In our recent webinar, Best Practices for Using Aquifer Geriatrics Across the Curriculum, top geriatrics educators from around the country shared their successful strategies for integrating the cases. Here are their top tips for ways to help learners make the most of the cases:
1. Flipped Classroom Didactics
At Icahn School of Medicine at Mount Sinai, faculty have revamped several traditional didactics in their Geriatrics Clerkship using Aquifer Geriatrics cases as pre-work.   The cases provide a shared knowledge base, allowing faculty to dive deeper into the principles during in-person sessions through deeper discussions and small group work to emphasize and apply learned material.  With the cases completed ahead of time there was also an opportunity for interactive teaching activities like board-style questions, practicing history-taking via role play/simulation, applying bedside diagnostic tools like the Confusion Assessment Method (CAM) and ePrognosis calculators, anonymous polls, discussion of evidence-based literature in a Journal Club. This approach encourages engagement and peer learning and has shown improved student satisfaction. 
For more ideas and details, read Dr. Samantha Lau's blog post, Redesigning Didactics for Gen Z: Engaging Students Around the Principles of Geriatrics or watch Dr. Ravi Ramaswamy present in our Aquifer Geriatrics webinar (starting at 18:42).
2. Virtual Geriatrics Course/Elective
At the University of Pennsylvania Perelman School of Medicine, faculty were asked to create a 2-week long virtual geriatrics elective to support quarantined students. With no required geriatrics clerkship at this institution, the team seized the opportunity to include more geriatrics in the curriculum. The course was structured to include a range of different learning modalities, with 20% synchronous work and 80% asynchronous learning. Coursework included a mix of six Aquifer cases, readings, podcasts, case-based small groups, writing reflection assignments, virtual discussion sessions (large groups with small breakouts), and discussion boards.
For more information, watch Dr. Rachel Miller present in our Aquifer Geriatrics webinar (starting at 26:30) or read The 5 M's and More: A New Geriatric Medical Student Virtual Curriculum During the COVID-19 Pandemic, published in the Journal of the American Geriatrics Society.
3. Closing Knowledge Gaps for Residents & Fellows
At Harvard Medical School, Aquifer Geriatrics cases fill a key role in supporting incoming Geriatrics fellows by providing a flexible resource for filling knowledge gaps in the care of older adults. Aquifer cases support learners with variable backgrounds, allowing them to brush up on basics or cases they have not encountered through discreet self-directed learning. Faculty can recommend cases based on interest or to help address weaker areas in learner knowledge. Learners are encouraged to complete the Deep Dives in Aquifer Geriatrics cases, which provide convenient links to key literature and the most recent research. This approach maximizes time for teaching and generating discussions with trainees.
At the Mayo Clinic Alix School of Medicine in Phoenix, Arizona, a similar approach allows teaching faculty to be more efficient.   Rather than using their time to cover basic concepts or creating didactics for just 1 or 2 learners, faculty are able to leverage their time with learners to answer questions and have deep discussions. The cases are also a useful tool to help to fill downtime in clinic.
In addition to this flexible approach, some programs integrate Aquifer Geriatrics into an immersive experience at the beginning of a rotation, requiring cases to be completed in a 'bootcamp' to ensure a common knowledge base for incoming residents or fellows.
For more information, watch our Aquifer Geriatrics webinar: Dr. Andrea Schwartz from Harvard Medical School (starting at 34:22); Dr. Amit Shah from Mayo Clinic Alix School of Medicine (starting at 44:24); or listen to Dr. Amit Shah's User Story Video.
4. Teaching the Teachers 
Aquifer Geriatrics is also a powerful tool used to support teaching faculty. Many faculty or trainees entrusted with teaching the care of older adults to students may not have had geriatrics training themselves, so making the cases available for a knowledge review can be helpful both to learn 'what the students know' and to discreetly fill in any knowledge gaps, catch up on current practices and standard language, or easily access the relevant research articles in the Deep Dives. Aquifer cases can be extremely helpful for preparing to teach on the topic. Faculty and trainees also find it helpful to use materials from the Aquifer cases in their own teaching, adopting useful figures, charts, and tables into their lectures and activities. 
For more information, watch Dr. Andrea Schwartz from Harvard Medical School present in our Aquifer Geriatrics webinar (starting at 34:22) or listen to Dr. Amit Shah's (Mayo Clinic Alix School of Medicine) User Story Video.
5. Clinical Context for Pre-clinical Learners
At the Mayo Clinic Alix School of Medicine in Phoenix, Arizona, Aquifer Geriatrics is used in several ways to support pre-clinical learners. The Aquifer Geriatrics case on Advance Care Planning provides an engaging way to cover this topic in a small group session for second-year students. After implementing a flipped classroom approach that included the Aquifer case, faculty noticed a clear change in the richness and depth of the discussions thanks to a shared understanding of the material. This allowed for a more instructive approach, answering questions, and troubleshooting skills issues. 
Using Aquifer Geriatrics can also help students in the pre-clinical years get off on the right foot, teaching communication skills, and early clinical reasoning skills. Other successful approaches include holding facilitated discussions centered around a case, or walking through cases together on Zoom or in class and talking through the clinical reasoning, just like you would in a case presentation.
For more information, watch Dr. Amit Shah from Mayo Clinic Alix School of Medicine present in our Aquifer Geriatrics webinar (starting at 41:17) or read Dr. Mandi Sehgal's blog post which includes suggestions for a team-based learning activity at the Florida Atlantic University Charles E. Schmidt College of Medicine.
---
On-Demand Webinars & Videos
For more from your colleagues–and an overview of the Aquifer Geriatrics course–watch Best Practices for Using Aquifer Geriatrics Across the Curriculum on-demand or view our Aquifer Geriatrics User Stories.
Share Your Perspectives
What has worked well for you and your students? Let us know—and share with your peers—by submitting a pearl.
All Categories: Pearls, Perspectives | Tags: M1, M2, M3, M4, active learning strategies, communication skills, flipping the classroom, peer teaching, pre-clinical learning, replace didactics, residents, virtual elective, virtual group activities